INDIAN WELLS, Calif.—Forget any bluster about age, resilience, rehabilitation: The story here is that Roger Federer may have solved Rafael Nadal. It's never too late to iron out your flaws, especially if you have only one to speak of.

The best sports movies according to Toheeb Jimoh
What once was Federer's kryptonite—Rafa's brutally spun topspin aimed to the one-handed backhand—now sits up for him like a tee-ball, ready to be smoked wherever he'd like. He chose to put them all over the court in his 68-minute, 6-2, 6-3 anticlimax. This, on the sun-baked Indian Wells hardcourt that many players, most recently Novak Djokovic, have described as slow and high-bouncing—qualities that historically have played in favor of the Spaniard who loves to chase doomed balls down and send them back kicking hard into his opponent's face. No critic can really rely on the observation that the Australian Open courts were playing nearly grass-fast: Federer's done it again, in less amenable conditions, in much more authoritative fashion.
Even as he leans hard into his corny dadliness off court, Federer is discovering frightening new lethality on court, stepping in past the baseline and just cutting the balls short before they can bounce high enough to perturb his backhand. Do you know how fucking hard it is to hit a ball on the rise, especially one as slathered with spin as Rafa's? Mistime that by a millisecond, and that ball is headed for the box seats behind you, or your own forehead. It takes a lot to execute successfully: timing, visual acuity, strength and flexibility of wrist, maybe a narrow form of bravery. Easily the most charming origin story for this weapon is that dad, Robert Federer, urged his son to "hit the backhand, dammit."

We knew—in terms of sheer strain put on the body's poor tendons and tissues, and in terms of reliance on raw foot speed—that Federer's game would age better than Rafa's, but it would have been very difficult to predict that the Swiss could still be uncovering new nuances to his game this far along in his career, at 35. Look at that last forehand winner on match point, leaving Nadal in dumb disbelief. (He can still take solace in that 23-13 record, though. Not enough time to catch up.)
---
If that tennis rivalry nears death—admittedly a premature conclusion, as we inch towards the courts that Rafa was born to play, that rich red clay at the French Open—there may be another on the way. So long as there are tennis gods, they will let whatever Novak Djokovic and Nick Kyrgios have now fester into a proper blood feud. In Wednesday's real main course, Kyrgios won their second match in as many weeks, 6-4, 7-6 (3).

G/O Media may get a commission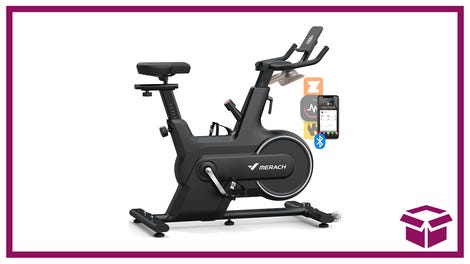 14% off + Coupon
Merach Indoor Cycling Bike
Kyrgios won 86 percent of his first-serve points, and refused to relent on second serve, too, bonking them as fast as 126 mph. (That's not normal! that's faster than any Djokovic first serve! you're supposed to play it safe.) Never seen this many second-serve aces before, and the Australian notched 14 aces total, a feat best captured in a sequence that left me slack-jawed, at 1-2 in the second set. Three in a row: 119 mph second serve, 131 mph first serve hissing down the T, 108 mph second serve kicking out wide. Djokovic couldn't put a racket on any of them, and he's not exactly lead-footed on the return, blessed with fine reflexes for blocking the ball deep and the footwork to recover in time for his favorite grueling rallies.
(There's an amusing parallel in both these matches yesterday, as both losers saw their defining strengths sapped dry: Tennis's best serve returner hasn't broken Kyrgios once in their four sets of play; Rafa dealt his own death by the very high ball he used to slay Federer with.)

But it wasn't serve alone that won Kyrgios this match. The two regularly engaged in weird, aimless baseline rallies, dumping safe balls more or less into the middle of the court—not sure what Djokovic's goal here was, perhaps to feel out whether Nick could hang with him in some kind of misguided groundstroke drill—and Kyrgios proved that he could push right with the best of them. His two-handed backhand, far from the most telegenic aspect of his game, stays consistent enough, and generates huge pace when he needs it to, though he rarely opts for it. As a voyeur on the practice courts, I was shocked by how effortless the stroke looks, how the ball pops off the strings despite his languid swing and abbreviated follow-through. Consider his finest backhand all week, a crosscourt winner against Alexander Zverev on Tuesday:

He solidly hits that backhand on the run too, and he did so to punish Novak's not-nearly-good-enough drop shots, on several occasions. Nick's drop shots, on the other hand, snuck in well-disguised, slickly flicked at the last second. This gem, where he hop-stepped up as though to wallop a forehand down the line, had everyone fooled:
Give me this matchup every week. Djokovic always seems on the verge of implosion anytime he sees that slump-shouldered silhouette from across the net, even just a day after playing the year's best tennis to dismiss Juan Martin del Potro. I wonder how much it has to do with reconciling yourself with past selves. Remember: not long ago, Djokovic was the one doing goofy-ass impressions of every other players, and clapping back at jeering fans, and going limp in fifth sets—until he decided to fix his fitness; adopt the same demure, functional, sportsmanlike persona of the two greats he unseated for the No. 1 ranking; and eat up every title in sight. Now, scrawnier and nervier than he was last year, Novak Djokovic is staring at the new punk on tour, and he doesn't particularly enjoy the view.