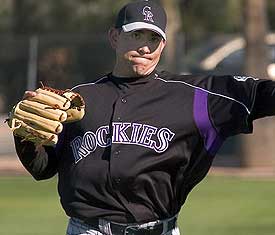 This is Brian Fuentes, who, until two days ago, was the closer for the Colorado Rockies. He had kind of a rough weekend; he blew saves on both Friday and Saturday, and then gave up two runs in the eighth inning Sunday after manager Clint Hurdle said he was taking the closer's job away from him. It's reasonable; he'd blown four saves in a row.
After all that, you'd have to forgive him if he were jumpy anytime the phone rang Sunday. But nope: This phone was Tony La Russa calling him to tell him he'd made the All-Star team. He's not even the only Rockies representative. La Russa, drunk again. Meanwhile, Fuentes is no longer only famous for his curious entrance music.
Of the All-Stars selected, we think it'll probably be fun to see Ken Griffey and Barry Bonds in the same outfield ... and check it out: It's All-Star Dmitri Young. Awesome.
All-Star Team Selected [MLB.com]
Brian Fuentes' Curious Entrance Music [Deadspin]