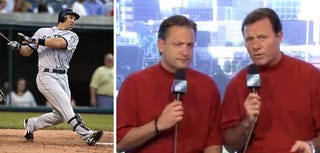 Notes from a day in baseball ...
• You've Got Some Red On You. Tackling the stories no one else dare touch, Lookout Landing goes in-depth this morning on the curious attire of the Indians' TV broadcast team of Matt Underwood and Rick Manning of Sportstime Ohio (above, right). Enjoy: "When I think of two people deliberately wearing the same outfit, the images that come to mind are a father and son, friends during Twin Day in elementary school, or maybe a totally whipped husband with his short-haired controlling wife. An image that doesn't come to mind is that of two fully-grown men who spend several hours sitting beside and talking to each other 162 times a year. Maybe this is something they always do, I dunno, but it seems peculiar. I mean, they have to know that they'll be on camera, right? And it couldn't just be a coincidence, meaning this is something they talked about and planned to do ahead of time. Is it a show of solidarity? Do they think that matching get-ups will make the home viewer more comfortable and less likely to change the channel? Maybe instead of coordinating their wardrobes the announcers could use that time to learn that our center fielder goes by Ichiro, not Suzuki. But hey, whatever keeps them interested."
• Oh Yeah, About The Game. Raul Ibanez went all He-Man on the Indians Monday, collecting two homers, a triple and a double to lead the Mariners to their fourth straight win, 8-7. Jose Lopez also homered for Seattle, which had a 7-0 lead by the fourth inning. After the makeup game at Jacobs Field, the Mariners had to hustle to Chicago, where they begin a series with the Cubs tonight. It will be the first time ever that the Mariners have played at Wrigley Field.
• The Mark Of The Z. This time there was no grapplin' with his catcher, which we find kind of disappointing. But Carlos Zambrano did hit a home run, and the Cubs topped the Astros 2-1. It was Zambrano's first game at Wrigley since he fought with teammate Michael Barrett 10 days ago, and he pitched well, giving up three hits and an unearned run over eight innings. Of course, his catcher this time out was Koyie Hill. Woody Williams took the loss.
• That Storied, Age-Old Giants-Blue Jays Rivalry. Barry Bonds hit his second homer since May 8 and first of the month, No. 747, as the Giants beat the Blue Jays 4-3. This caused manager Bruce Bochy to actually say: "He tied that game for us. That was huge. We needed a shot in the arm and he gave it to us. ..." Yeah. Let's just move on.
• More Double Vision. Luis Gonzalez clubbed a pair of doubles — to the chagrin of his hitting coach — to lead the Dodgers to a 4-3 win over the Mets. With 561 career doubles, Gonzalez tied and passed LA hitting coach Eddie Murray for No. 19 on the all-time list.