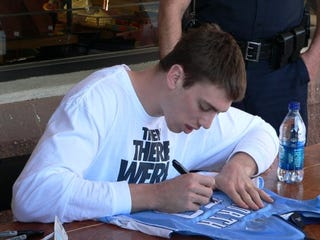 Got an image you'd like to see in here first thing in the morning? Send it to tips@deadspin.com. Subject: Morning crap
From spectacular Tar Hell JJones:
Here's Tyler Hansbrough signing autographs before a barnstorming tour stop in Gastonia, NC— the home of Sun-Drop, Fred Drust, and James Worthy. Mr. Psycho T looks very intelligent while signing his masterpiece.
For those not familiar with "barnstorming," read this article. It's a big deal in North Carolina.
Yawwwwn! Alright, lemme get my coffee and we'll get this bitch on track today. Stop jumping on the bed. Here. Watch this: