A surefire way of embarrassing yourself is by saying anything optimistic-sounding about the Charlotte Hornets based on something they do in the first month of an NBA season. They finished each of the last two seasons with 36 wins, and their biggest roster upgrade headed into this season involved jettisoning Dwight Howard and hoping that Cody Zeller can stay healthy for 82 games. That's not nothing, but the safe money would still be on them winning somewhere between 33 and 43 games. It seems their role in the universe is to personify the concept of the treadmill of mediocrity.
Jokic? Embiid? The NBA MVP is obvious... right? | Keep it a Buck(et)
But the Hornets are still worthy of your attention, because Kemba Walker is awesome, and Charlotte's offense under new head coach James Borrego seems more tailored than ever before to the goal of letting Kemba cook. He put 41 points up in a narrow opening-night loss to the Bucks; he then scored 26 points on 17 shots in 27 minutes in a wipeout of the sad Orlando Magic; and he dropped a dazzling 39 points in Miami on Saturday, over and around and through Josh Richardson, one of the best 1–2 defenders in basketball. Along the way Walker earned himself Eastern Conference Player of the Week honors, and set a new mark for three-point shooting:
Not bad for a guy who was remaking his jumper as recently as 2015. And lest you think all those threes are coming as a result of some hyper-efficient Spursian pinball offense, where elaborate passing sequences routinely deliver the ball to a wide-open Kemba, chilling in the corner, here's his shot chart, through three games:
G/O Media may get a commission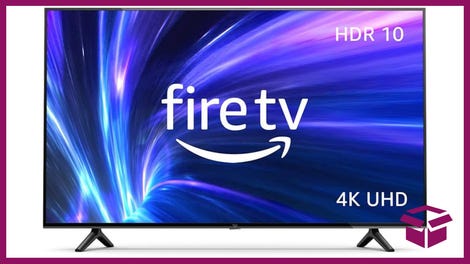 42% Off
Amazon Fire TV 50" 4K Smart TV
Note the relative paucity of attempts from the corners—shots that are generally generated via assists, as opposed to off the dribble. Borrego has the Hornets playing a fast and loose brand of basketball, but a huge number of Kemba's attempts from deep are still coming above the break, created via his own electric ball-handling, as per usual. Watch the highlights from the Heat game, and you will see Kemba scurrying around screens and pulling up with just a sliver of space, with Goran Dragic or Tyler Johnson on his back, or with Richardson directly in his mug:

Through three games, it's working. The Hornets are a wide-open corner three bricked by the corpse of Nic Batum away from being 3–0 today, with wins over pretty good Bucks and Heat squads. Of course, Kemba is scoring 35 points a game on almost 35 percent usage, but whatever. Whole years of the Hornets getting most of everything wrong when it comes to roster construction have brought them to this point, where the best play they can run on any given trip up the floor is the Just Do Something Awesome, Kemba.
It's sort of nightmarish to think of all that the Hornets need to go right this season in order to return to their 48-win form of the 2015-16 season. They need Batum to remember how to score; they need Jeremy Lamb and Malik Monk to be more than streaky all-offense goofs; they need Marvin Williams to hold off what has been a pretty alarming assault by Father Time for one more season; and they need Michael Kidd-Gilchrist to do something, ANYTHING on offense. They need Zeller to hold up. They need to drag rotation minutes out of some combination of Frank Kaminsky, Bismack Biyombo, and Willy Hernangomez. And they need to survive at least 10 or 12 minutes a game when Tony Parker is running the show while Kemba catches his breath.

It's a lot to hope for. Probably too much. That's not to say it can't happen, only that we've reached the point in this era of Hornets basketball when it's best not to expect Kemba's heroics to serve any greater basketball purpose in Charlotte. Until the Hornets prove otherwise over most of a season, or until Kemba is traded to, say, the Lakers, the reason to watch Charlotte is to watch Kemba cook. Good thing it's still an incredible show.