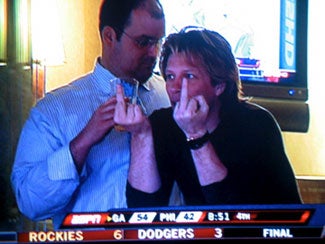 You know, we haven't decided if Jon Bon Jovi's part-ownership of the Arena League's Philadelphia Soul makes the league more interesting, or less. On the one hand, a "rock star" who writes about just the perfect karaoke song owns a sports franchise and screams and yells from the luxury booth. On the other, it's Jon Bon Jovi.
Anyway, Jon Bon got a little testy at a game the other day and starting flipping off the referees. And it turns out, he was wrong and didn't understand a call correctly.
"I didn't understand the rule," Bon Jovi said. He was told later by ESPN2 announcer Mike Greenberg that all a receiver has to do is take two steps with the ball in his hands for it to be a catch - and replays showed that's about what Bergeron took before dropping the ball then recovering it at the back of the end zone. Oops.

"I apologize for the middle finger thing," Bon Jovi sang. "I didn't know the rule. Simple as that."
We're a little bewildered by the notion of Mike Greenberg explaining a football rule to Jon Bon Jovi, but, hey, we can't figure out why there's a team called "Soul" either.
Force Isn't With Soul, Bon Jovi In First Loss [DelcoTimes]