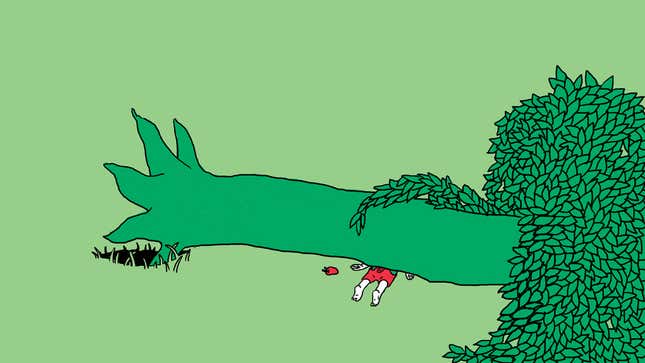 I'm a stay-at-home dad with two kids. My daughter is seven, but before she was old enough to go to preschool, I watched her when she was awake and worked odd hours from home while she slept. My son is two, and we're on the same schedule, except that I've recently joined the jobless recovery, so now it's all toddler, all the time. I read to my kids every day, and you'd better do it, too, if you don't want your own kids to grow up to be sociopaths or "truthers" or Ravens fans—every study on early childhood development says so. If I'm honest, reading to my kids is the only parental activity that I'm 100-percent confident about.
The only problem is that lots of kids' books are terrible. I don't just mean the crap churned out by media machines like Dora and Thomas. Plenty of classic children's books should be burned, or thrown out, or at least ridiculed in this space. So let's do at least one of those.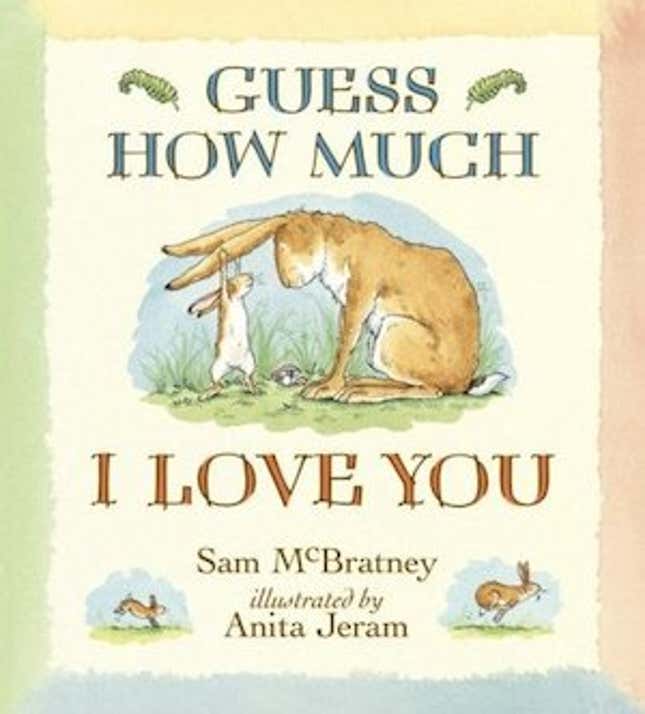 Guess How Much I Love You
Every one of us has been cornered by a one-upper. This guy had the iPhone 6 before anyone else. He's seen your favorite band way more times than you. He has courtside seats and tickets on the 50-yard-line. He out-drinks you, out-earns you, and out-fucks you. And he started learning his craft from this book.
In the story, it's almost bedtime for Little Nutbrown Hare. He's had a great day with his dad, and he wants to express the pure, unconditional love he feels. He throws his arms wide and declares that he loves Big Nutbrown Hare "this much." But instead of smiling and hugging his son, Big Nutbrown Hare spreads his longer arms even wider and says, "But I love you this much." Little Nutbrown Hare tries everything he can think of to gain his father's approval by stretching or hopping or describing the entirety of the world he knows, but his dad tops him at every turn. At the very end, after Little Nutbrown Hare has finally passed out from the emotional exhaustion of trying to get his dad to understand his limitless affection (which reaches all the way to the moon), Big Nutbrown Hare whispers into his ear, "I love you right up to the moon— and back." Had to have the last word. I like to imagine that Big Nutbrown Hare then cracks open a PBR and mutters, "Sumbitch thinks he's bigger 'n me. Well he ain't."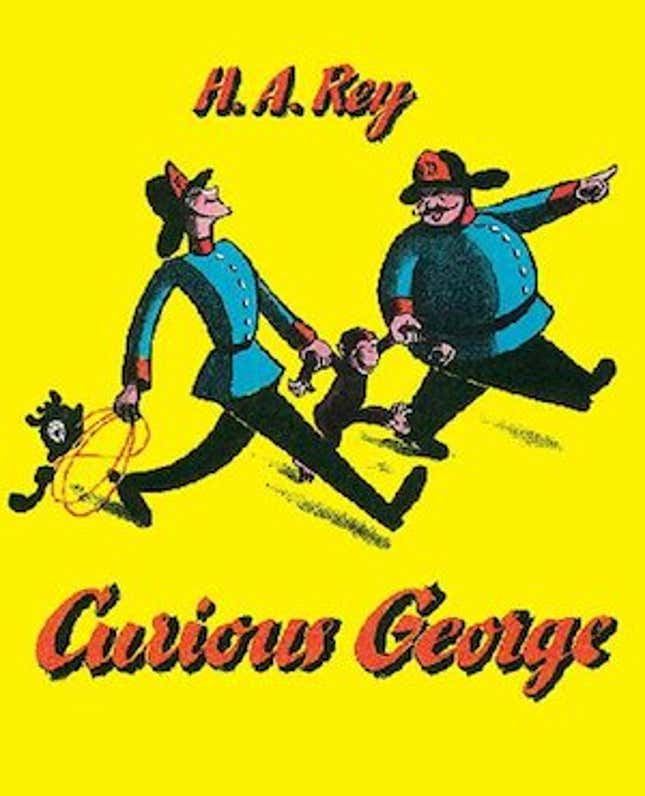 Curious George
This is the original friendly little tale of the most profitable poaching in history. This book was published nearly 75 years ago, but it's still widely available; I saw it in my daughter's Scholastic flyer last month. The Curious George franchise is everywhere now, and all because the Man in the Yellow Hat took a trip to Africa, stuffed George into a bag, and sold him to a zoo.
When we first see the Man, he's carrying a camera, a set of binoculars, and a rifle; maybe there's already a stack of rhinoceros horns back at his camp. Who knows? Once George is captured, he's taken to a big ship, where "things begin to happen." The lack of specifics there is troubling. George is sad, but still possesses that plucky curiosity, so he plays on the deck of the ship, falls overboard, and happily vomits seawater and fish upon rescue. Once they're in the city, George smokes the Man's pipe and, while playing with the Man's telephone, accidentally dials the fire department, whereupon he's thrown into Shawshank as punishment. After a jailbreak and a few more antics, George's captivity is upgraded to a wondrous and wholly impossible zoo, where giraffes and camels frolic next to flamingos and penguins.
In the modern telling of Curious George, our hero is cast as a good-natured but hapless idiot. He lives with the Man in a building with a doorman and invariably ruins the Man's day, which is entirely appropriate. The Man should be eternally punished for "owning" a monkey in the city. Here's what I want: Someone needs to do for Curious George what Frank Miller did for Batman. I want to see George go Keyser Soze on the Man and everyone he ever loved. But instead of bombs and guns, George should experiment with dismemberment. Grown monkeys are vicious and strong. He could stand over the carnage and say, "I guess I got a little too curious!" That's a terrible kids' book also, but I'd watch the shit out of that movie.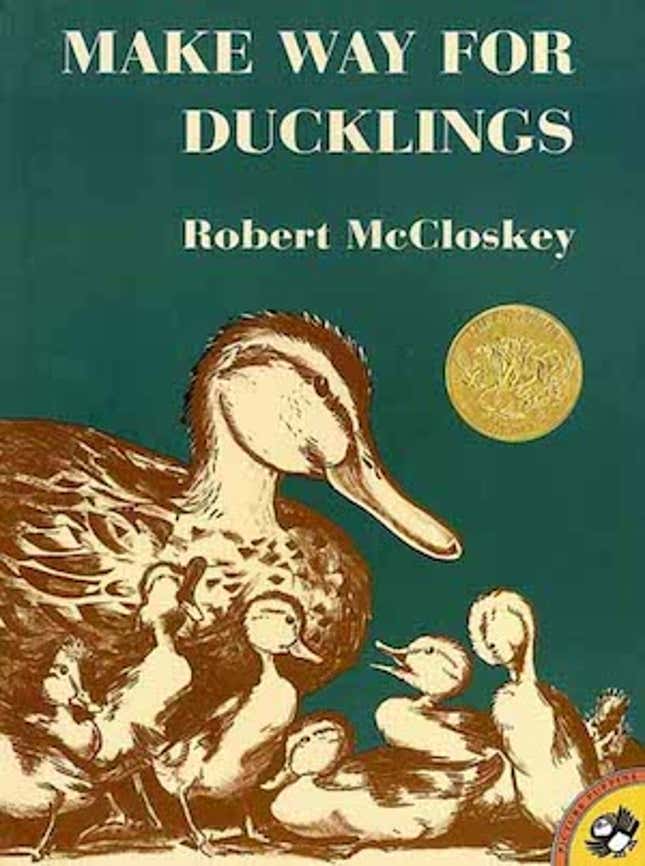 Make Way for Ducklings
I know a lot of people hate Boston. I think it's a charming place, and it must be wonderful to live in a city that's immortalized in an iconic piece of literature such as this. If there was a similar book about the town where I live, it would be titled, The Rock and Roll Star Who Died on the Toilet or The City That Murdered the Prophet of Racial Equality.
The problem is that Make Way for Ducklings is old (first edition, 1941), and it hasn't aged well. Have you ever tried to watch an episode of Barney Miller? That show won lots of awards in the '70s, but now it's all wrong: The pacing is slow, the lighting harsh, the writing hokey. This book is like that. It won the Caldecott Award in 1942 for its brown-and-white illustrations, but if your preschooler makes it through the first 18 pages of Mrs. Mallard's search for the perfect nesting grounds, I'll mail you a dollar. The word count at that point is unreal, and we still have pages to go before the ducklings (Jack, Kack, Lack, Mack, Nack, Ouack, Pack, and Quack) make their appearance.
By the way, as soon as those ducklings hatch, Mr. Mallard decides to "take a trip to see what the rest of the river was like." Right. Mr. Mallard needs some damn peace and quiet, and the other day he noticed little Ms. Blue-Winged Teal swimming by, looking like she needed a little company. Mrs. Mallard is left alone to march her ducklings through the Masshole traffic of downtown Boston; she gets a lot of help from friendly Officer Michael and a few other policemen (who today would have shot them for jaywalking), and the whole family is reunited at the pond in the Public Garden, which is where you can find their statues.
I am certain that most copies of this book are purchased at the Hudson Booksellers in Logan Airport and then, like mine, re-purchased from used bookstores in flyover country after the original parents have tried and failed to convince their kids to finish the thing several times on the flight home.
Are You My Mother?
I take this one a little too personally. In my house, it just reminded the kids that Mommy isn't there: After eight or nine hours hours of changing diapers and appeasing tantrums, I would see this book on the floor and think, "Yeah, just where the hell is your mother?" She was sitting in endless meetings to bring home the bacon, and I'm grateful. But none of her co-workers poop on her, as far as I know.
First of all, the mother bird in this book could use a little coaching up from Mrs. Mallard. The nest here is perched in a wasteland and surrounded by predators. When the baby bird hatches and finds his mother absent, he decides to leave the nest to track her down. Never leave the nest, baby bird! The first animal he encounters is a kitten, and the book ought to end right there, but the kitten only stares at the baby bird like an asshole. The bird then meets a hen, a dog, and a cow, who are all entirely unhelpful: The cow says, "How could I be your mother? I am a cow." Indeed.
The bird, increasingly frantic, runs past a junked car, cowers under a jet, and finally encounters a piece of heavy construction equipment called a Snort, which picks the bird up in its front bucket and begins to carry it away. This is where my daughter would invariably burst into tears. We almost never got to the happy ending, and we finally had to put the book "away" (in the trash). I bet this is also a big hit in daycare centers.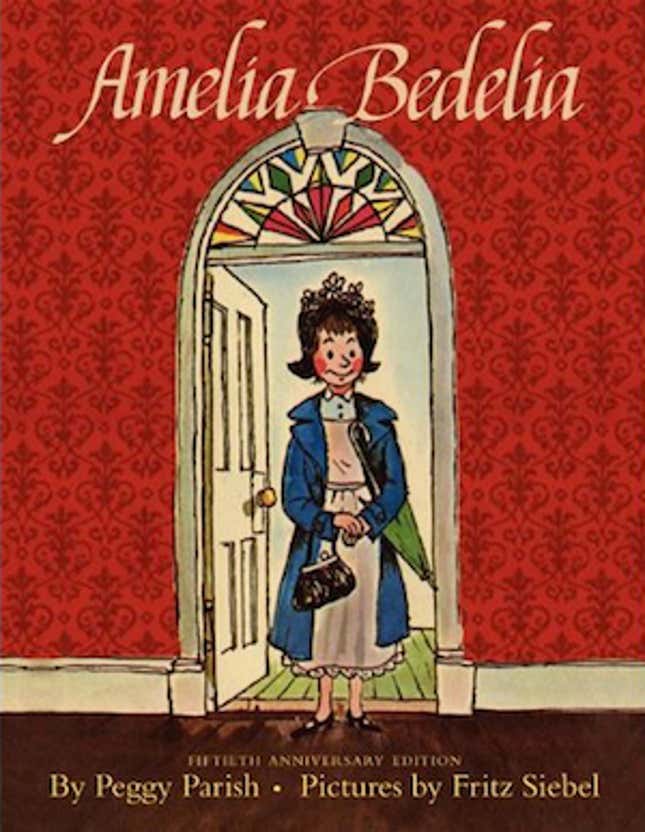 Amelia Bedelia
Woe unto the unsuspecting parent who takes this one off the shelf. Have you ever spent an afternoon trying to explain puns to a preschooler? It's excruciating. Kids have a tenuous grasp of language to begin with, and trying to introduce the concept of double meanings is nearly impossible. Amelia Bedelia is a thick-skulled maid who takes everyday expressions way too literally. That's how she's always referred to, by the way. Amelia Bedelia. Her full name, every time, approximately 75 times per book. You're screwed if your child turns out to be a completist, because there are more than 40 entries in this series. I know a couple who treated the name Amelia Bedelia like Voldemort and would only say "A.B." That doesn't solve the problem of the puns, though.
In the original book, Amelia (I'm going to stay on a first-name basis for the sake of my sanity) begins a new job at the house of Mr. and Mrs. Rogers, who at this stage have no idea of the never-ending hell they have been cast into. Amelia is instructed to change the towels, so she grabs a pair of scissors and cuts holes in them. See? She changed them! She dusts the furniture by covering it with dust! She puts the lights out by hanging them outside on the clothesline! She dresses the chicken by making a little pair of overalls for it!
"You see kids, when you dust the furniture, you're supposed to wipe the dust off. Not put more dust on. And changing the towels just means putting clean ones on the towel rack." See how fun that is? These books are why Daddy drinks too much. Too much water! Because they're so long! Dry mouth! See what I did there?!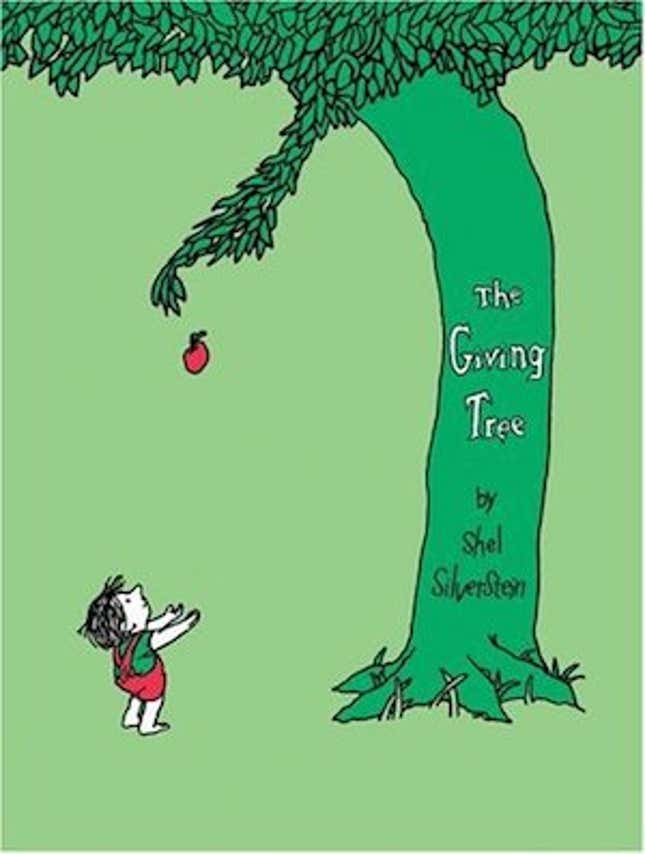 The Giving Tree
This book ought to be subtitled, An Introduction to Co-Dependency. Shel Silverstein was a marvelous songwriter, and his poems are imaginative and subversive. We have several of those collections. I'm sure this book is the most popular thing he ever wrote, and I think it's the most dangerous, because the way it's viewed now is entirely without irony.
Once there was a tree, and she loved a little boy. He climbed her trunk, swung from her branches, and ate her apples. They had fun. But the little boy grew up and got a girlfriend. He discovered sex. And the need for money. And the need for a comfortable home. And much later, the existential need for escape. At every turn, the tree gives the boy what he needs. A place to hide and make out. Apples to sell. Branches to build a house. Her trunk to build a boat. At the end of the book, the boy is a very old man. All he needs is a place to sit. And all the tree—now a stump—is good for is sitting on.
What exactly is this story telling me, as a parent? Should I give every bit of myself, body and soul, to a child who only asks for more? There are overly attached attachment parents who would say that I should. I say that would leave me as nothing more than a sad little stump, only good for an old man to fart into. When the boy says he needs money, the tree ought to say, "Get a damn job!" Then he'd have proof of income and some credit history to buy a house, and maybe a little left over for a boat when he gets tired of the rat race and says, "Fuck it all, I want to see the world."
I think this book is actually a cautionary tale for parents. It's not meant for kids. Late in the story, after the tree has given away her trunk, there are two facing pages. All we see is the stump with some blades of grass around it. Here are the only words: "And the tree was happy … but not really." I find that chilling. Keep a little something for yourself, parents. And keep this one off your kid's bookshelf.
---
Geoffrey Redick is a freelance writer and radio producer. He lives in Memphis. He's on Twitter.

Lead image by Jim Cooke.
Adequate Man is Deadspin's new self-improvement blog, dedicated to making you just good enough at everything. Suggestions for future topics are welcome below.