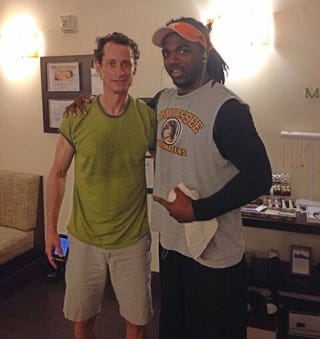 This morning, Donté Stallworth tweeted out a photo of himself posing with a post-workout and rather harried-looking Anthony Weiner. Intrigued, we reached out to Stallworth to see if he and Weiner were workout bros.
Stallworth wrote back to us:
Hey, what's up bud.

Total coincidence. I saw him walk in the gym, and after a while I introduced myself.

He was cool. So I asked him for a pic.
So, no buddy comedy in the works, although this could be the start of a Twitter bromance:
[Twitter]