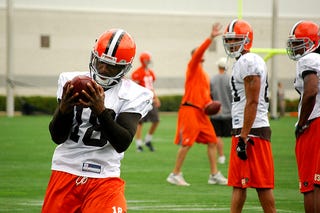 The sad tale of Browns' wide receiver Donte Stallworth has reached an unsurprising end, as Miami police are set to charge him with DUI manslaughter for mowing down 59-year-old Mario Reyes.
What this will mean for the rest of Stallworth's season is uncertain, but based on those early BAC readings that were circulating around, he'll probably have to do some jail time eventually. Stallworth hasn't been talking about the accident that much after he released his "grief stricken" apology to the Reyes family. Well there was also that ridiculous "I flashed my lights" statement that he gave to police after the accident, but that probably didn't earn him any sympathizers.(Seriously — most people don't even flash their lights for geese or squirrels. They just STOP.)
And as was noted before, Stallworth was part of the NFL's voluntary substance abuse program. That stay, combined with this latest incident, is probably not going to earn him any merit badges from Roger Goodell.
Donte' Stallworth expected to be charged with DUI Manslaughter [Miami Herald]