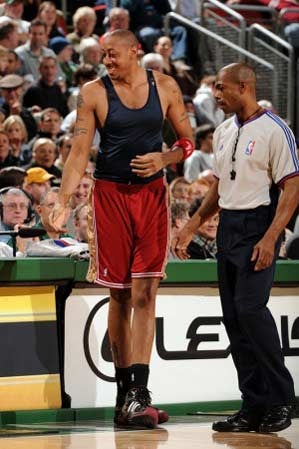 The NBA Closer is written by Matt McHale, who is in no way related to Kevin McHale and who has taken the necessary legal steps to ensure that it stays that way. When he's not studying the history of Allen Iverson's hairstyles, he can be found cracking wise at Basketbawful. Enjoy!
• Lakers versus Pistons, mecha robot edition. Without Andrew Bynum (left knee injury), Trevor Ariza (broken right foot) and Luke Walton (hip pointer), the Lakers were three lions short of forming a complete Voltron. You know, assuming they're the Lion Voltron and not that weird Vehicle Voltron. Metaphorically speaking, of course. So Kobe Bryant was forced to go all Invincible Super Man Zambot 3 on the Pistons, scoring 39 points and grabbing 10 rebounds. However, he also committed a career-high 11 turnovers, giving him his first ever career triple bumble. Meanwhile, the Pistons - the Saber Rider and the Star Sheriffs of this intergalactic saga - used a team effort and a game-winning three-pointer from Tayshaun Prince with 4.5 seconds left to beat the Lakers 90-89. L.A.'s final shot was an airball by Lamar Odom, prompting Kobe to say after the game, "What are you going to do when guys are open? If I catch the ball, what am I going to do, go one on three?" To which the assembled media responded with an eerie and ironic silence. It was Detroit's ninth straight win over the blue and gold, dating back to January 18, 2002.
• Ich kann rebounden nicht so gut! Dirk Nowitzki had 31 points and 11 boards, but he was outrebounded by Boston's miniature point guard Rajon Rondo, who had a season-high with 12. And none of those were bigger than the one he ripped away from Herr Nowitzki and converted into the go-ahead reverse layup with 42 seconds left. The Mavs got a couple more shots at the basket but choked on them, and James Posey hit two free throws then tipped the ball away from Jason Terry in the closing seconds to secure a 96-90 victory for the KG-less Celtics. Josh Howard added 19 points for Dallas, while Ray Allen and Paul Pierce each scored 26 for Boston. Bonus stat: Brian Scalabrine had more starts (1) than points (0).

• A real Cleveland Steamer. If Seattle's 101-95 win over Cleveland proved anything, it's that the Cavaliers are exactly one alien abduction of LeBron James away from being worse than an 11-35 team. Without their King (sprained right ankle), Larry Hughes led Cleveland with 28 points - hey, he just needed more shots! - and Zydrunas Ilgauskas added 17 points and 9 boards, but the Cavs but the Cavs were down 20 by halftime and never recovered. Kevin Durant netted 24 points and actually shot better than 50 percent for a change (10-for-16), and Chris Wilcox provided 18 points, 13 rebounds, and some sound investment advice. (Here's a hint: Buy low, sell high.) Fans who were disappointed by not getting to see Lebron James play got the consolation of seeing Donyell Marshall expose his man boobs thanks to a jersey malfunction.

• Where butt-ugly games between great teams happen. You know, the only thing harder than winning an NBA championship...is not winning an NBA championship. Write that down. Nobody has learned this lesson better than the Suns, who have won, like, 500 games the last few seasons but still haven't made it to the NBA Finals. Standing in their way, like an old lady shuffling down a narrow sidewalk with two large plastic bags full of canned cat food in her hands, has been the San Antonio Spurs. And even without Tony "Le Fake Injury" Parker, the Spurs pulled out an ugly 84-81 win over the Suns. Manu Ginobili had 19 points and a humungoid nose, while Tim Duncan pulled 16 points and 17 boards out of his bag of holding. Shawn Marion paced the Suns with 21 points and 10 boards, and Amare Stoudemire accumulated 16 and 9 but missed a freethrow with 8.7 seconds left that would have tied the game. It was his fourth missed foul shot of the fourth quarter, and the Suns lost by three. You do the math.