A dispatch from our correspondent with the Bridgeport Bluefish, an unaffiliated team in the Atlantic League.
BRIDGEPORT, Conn.—Wednesday, April 25, starts out as one of those cloudless Connecticut mornings, the kind of day that seems so pretty you suspect someone in Greenwich ordered it off an aperitifs menu. By the time I get to Bridgeport, however, the sky has turned wet and gray. I'm here for media day with the Bridgeport Bluefish, an independent baseball team that plays in the Atlantic League. This isn't the indie league Scott Boras used to sign J.D. Drew—it's the one he used for his brother, Stephen.
Today, most baseball types agree that the Atlantic League is the best independent circuit. It offers the longest season and the biggest payrolls, and both factors help the league sign more ex-major leaguers than anyone else. Juan Gonzalez, Rickey Henderson, Jose Canseco, and John Rocker have all starred here, and plenty of lesser lights have made it back to the minors and even to the majors—what everyone here lumps together as "affiliated ball."
The Atlantic League has also endured: This year marks its 15th anniversary, and when it started in 1998 its premier franchise was the Bridgeport Bluefish. Bridgeport was (and is) one of America's poorest cities, trapped in one of its richest counties, but the Bluefish appeared to offer a solution. The city plopped down a $19 million, 5,300-seat stadium on top of an abandoned factory and one of its most notorious housing projects. And for a while, at least, the fans came out, even from the suburbs, to the tune of more than 4,000 per game.
G/O Media may get a commission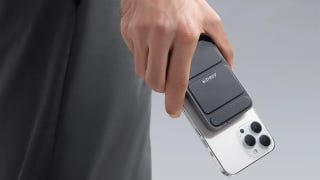 15% off
15% off Anker Top Ten Products
Take charge
Treat yourself to a portable power bank, a magnetic wireless battery for iPhones, or even a solar generator. There is a reason these are in the top ten. For instance, the Anker 747 Power Bank is a 4-in-1 charger utilizing USB-A and USB-C to be capable of charging up to four devices at once. Great to take with you when traveling and in need of keeping your phone, laptop, and even Nintendo Switch powered on.
Your Bridgeport Bluefish At A Glance
Record: 9-3
Average announced home attendance: 1,636
Call-ups to affiliated ball: Dan Strange (P) to the San Antonio Missions (Padres AA)
Upcoming promotion: "Business Person Special in Harbor Club," May 23 (we don't know what that means, either)
Media day falls on the eve of the Bluefish's 15th season opener. Player interviews begin at 3:30 p.m., and a press conference with the owner is set for 4:30 sharp. So far, however, I'm one of only two media members in attendance; the other guy is a college student who's stringing for a local paper until he graduates in two weeks and presumably ends its Bluefish coverage. We watch players drift through drills and BP, but, more than anything, they seem focused on talking in English and in Spanish. It all feels pretty strange until someone mentions that the players didn't arrive until April 15. The Atlantic League used to hold spring training in Florida, once MLB cleared out, but now its teams stay home. This year's Bluefish are still getting to know each other.
Nevertheless, Paul Herrmann, the team's hardworking P.R. guy, says he'll corral any player we need. (How hardworking is he? When I ask about B.B., the team's piscatorial mascot, Herrmann admits that "everyone's done it. Everyone.") The student immediately requests Joey Gathright, and Gathright's a good example of how indie baseball works: Last year, after spending time in two independent leagues, he snagged a minor-league contract with Boston. In September, Gathright got seven games and one at-bat with the Red Sox, and that's enough to make him a star in Bridgeport. The Connecticut Post, the only outlet to dedicate someone to the Bluefish beat, centered its season preview on Gathright. "You think about it because you want to be there, ultimately," he said of the majors. "[But] I'm here. I'm going to do what I can to help this team win."
After Herrmann returns with Gathright, I ask for Luis Lopez. Lopez played a few games with the Blue Jays in 2001 and a few more with the Expos in 2004. Now, at the age of 38, he's entering his fifth season as Bridgeport's third baseman. Given the turnover in independent baseball, that makes him the closest thing this franchise has to a face.
To avoid the splatters of rain, Lopez and I head to the dugout, ducking past a photographer who's still getting headshots of the newest Bluefish. By this point, Lopez has settled in Connecticut. He's got three kids, with a fourth coming "any minute," and on roadtrips he talks to them through his iPhone's FaceTime. In the offseason, he makes a living by training younger players. But he also works out at Planet Fitness—this year he started in October, earlier than ever—and says he hasn't given on getting back to the big leagues. "You never know," he points out. "They might be crazy enough to sign an old guy." Still, Lopez seems much more enthusiastic talking about the Bluefish's upcoming debut ("I still get butterflies") and watching Atlantic alum Jerome Williams on the clubhouse TV ("'Look at that,' I tell the young fellows, 'Anything can happen'").
When it's time for the press conference, I head up to the suite level. Herrmann says things will start a few minutes late since the owner, Frank Boulton, is running behind, so I find the student and ask about Gathright. "I tried to get some Red Sox stuff out of him," he says. "Meh." At least we've got company now: the Post reporter, a couple other print folks, a camera from News 12. Behind a table sits the Bluefish's manager, Willie Upshaw, and its GM, Bob Goughan, along with the bench coach and the opening day starter. (Neither will say a word.)
To kill time, everyone talks about the end of last season, which Goughan still describes as "Dadaesque." The Atlantic League has eight teams and two divisions, with the Bluefish playing in the same division as their hated "cross-sound" rivals, the Long Island Ducks. Every year, four teams make the playoffs—the first- and second-half winners in each division. But in 2011 the Ducks were so good they won both halves. The Bluefish were due to grab the other playoff spot, except that the Southern Maryland Blue Crabs, who had canceled five games due to Hurricane Irene, were statistically still in the postseason picture. In lieu of having the Blue Crabs play makeup games, the league decided to hold a one-game playoff in Bridgeport, and the Bluefish lost, ending their season.
Just as Goughan and Upshaw are proclaiming their desire for revenge, Herrmann reappears with his cell on speaker. It seems Boulton, who lives in Long Island and owns the Ducks—in addition to the Bluefish—has decided to conference in to the conference.
Boulton talks for a couple minutes ("We're excited. … Joey Gathright is going to be a good player"), then cedes the remainder of his airtime to his GM. Every independent team, along with the leagues in Japan and Mexico, fights over the same castoffs, and it can make roster discussions sound vaguely geopolitical. "There are some things happening in Mexico that may be to our ultimate advantage," Goughan says. But within 10 minutes everyone seems to be out of questions. I ask Goughan how he managed to land Joey Gathright. Turns out the player's agent had mass-emailed every front office in the Atlantic League. Goughan expressed interest and began discussing potential offers. "At some point," he says, "I realized I was the only one negotiating." Goughan doesn't expect Gathright to be a star for the Bluefish. "He fills a need," the GM says. "He's our center fielder. To me, that's the story."
* * *
Even with the sudden-death stakes (and even with $5 tickets), the Bluefish drew only 1,103 fans to their final game against Southern Maryland. And that's probably a fair estimate of the number of baseball fans left in Bridgeport. Even at the beginning, when the crowds were big, the team lost money. Then, in 2003, a jury convicted Bridgeport's mayor of 16 counts of corruption—including the swap of a no-bid contract on the Bluefish's stadium for some work on his house. The mayor went to jail right about when the stadium started to break down; the roof leaked so much the sales team had to cover their computers with plastic. With attendance declining, and the team changing hands twice, the new owner finally decided in 2007 to bring in a big-name manager. She decided to bring in Tommy John.
A week before media day, I called John to talk about his time with Bluefish. "I've never had more fun in my life than I did managing at Bridgeport," he tells me. "You didn't have people over your shoulder saying, 'This pitcher has to pitch in the seventh inning, and this starter can only throw 80 pitches.'"
John had seen enough of that while managing the Yankees' Single-A affiliate. Still, when the Bluefish called he needed some convincing. "I remember saying, 'Who are the Bridgeport Bluefish, and how did you get my number?'" he says. Bobby Valentine had recommended him, and the Bluefish wooed John with a fat three-year contract—$100,000 per year, plus benefits, a huge sum in a league in which players make about $2,000 a month. John moved into a local Homewood Suites, and every morning he'd hit golf balls for an hour or two, then eat lunch, then go manage the Bluefish.
Things started well enough. The Bluefish led their division for most of the first half, and John's celebrity ensured him a spot managing in the Atlantic League's All-Star Game. But just before the break, the Bluefish collapsed and ended up missing the playoffs entirely. "We had a very good ballclub that year," John recalls. "Junior Spivey's father was on his death bed. We were not the same ballclub without Junior. That sounds funny, but it's true." (Right about here, John cuts off our conversation—he's forgotten he has to do a spot on St. Louis sports radio about Adam Wainwright's recovery from, well, Tommy John. "There isn't anything wrong with him," John says when we get back on the phone. "He has to learn how to pitch again.")
In 2008, John led Bridgeport through another disappointing season—for the second straight year, his pitching staff finished last in ERA and walks—and when Boulton bought the team that fall he called his manager in for a meeting. John had just served as grand marshal in Stamford's Thanksgiving parade, but Boulton informed him he was rewriting the last year of his contract. "He told me Connecticut was an at-will state," John says. "He told me I could get 50 percent of something or 100 percent of nothing. I don't know if what he said was true or not. I could have contested it with a lawyer, but Frank has more money than me."
So John's salary for 2009 dropped to $60,000—and his benefits started costing him $18,000 per year. It was one of many changes under Boulton. Before the ninth inning of every home game, the Bluefish used to send John and one fan out to right field for a chipping contest. But Boulton canceled it because it wasn't sponsored. "He's a good businessman," John says, "a very good businessman." But as John began his third year with the team, he also began looking for a new job.
He found one just before the break, resigning abruptly. John's final record with the Bluefish was 159-176. By this point, the team was drawing about 2,400 per game, the lowest total in the Atlantic League.
* * *
On Thursday, April 26, the Bluefish open the season against the Camden Riversharks. While waiting for the fans to show up, I chat with the Riversharks' GM in a semi-crowded press box. He's got his own big-league center fielder in Felix Pie; as with Gathright, the deal originated with an agent and didn't require any scouting. "Pie is name enough," the GM tells me. The Riversharks also have plenty of Lopez-style lifers, including one guy who both bats leadoff and interns in the team's sales department. That's where the GM spends most of his time, anyway. "Look, I finished fourth in my fantasy league last year," he says. "My fans care about good food, clean facilities, and fireworks."
The Bluefish haven't planned any fireworks for opening night, but that's probably for the best—Bridgeport's weather has turned even worse, with the rain now accompanied by a nasty wind that drops temperature into the 30s. The team claims 2,022 tickets sold, but when I count in the fifth inning there are fewer than 150 people in the stands. Eight of them are the shirtless guys pictured above, a group of juniors at nearby Masuk High School. Since one was running late, "R" tells me, they put two letters on their broadest member. The last guy still showed up, so they gave him an exclamation point. Their prom is the following day, but no one seems very worried about getting the paint off or avoiding hypothermia.
Those guys provide the high point to the first seven games. Both the Bluefish and the Riversharks look rusty, combining for lots of bobbles, walks, and wild pitches. The press box thins out by Game 2—it's down to the Post reporter; the official scorekeeper; Paul Herrmann, who keeps switching between running the scoreboard and being the stadium announcer ("Things will get easier once the interns arrive," he promises); and me. During a game against the Long Island Ducks, who come to town after the Riversharks, I watch B.B. the mascot run out of fans and just flop down in an utterly empty section, its feet (?) hanging over the seat in front.
It's during the Long Island series that I start to realize how tired and frustrated this place can feel. Boulton doesn't show up to any of the games, but it's not hard to tell which of his teams is his favorite. The Ducks' dugout boasts five coaches; the Bluefish use their bus driver as the first-base coach on the road. The Ducks have seven employees with the word "sales" in their title; Boulton keeps laying off people on the Bluefish's business side. To be fair, he's done some good things as well, like replacing the stadium's splotchy playing surface and fixing those leaks. Boulton probably kept the Bluefish from moving or folding. But that has less to do with his love of Bridgeport or baseball than with the fact that the whole league saves travel money when there are two adjacent teams. The Bluefish are now something like the Pirates of the Atlantic League—except in this analogy the Pirates are owned by a Steinbrenner who has decided to exercise his power by ignoring them.
There's one exception to this sense of despair: the players. The Bluefish go 5-2 on the homestand, but it's not really about that. Instead, it's about how the infielders still wiggle their fingers with two outs. Or how the hitters still argue balls and strikes. ("There's a reason everyone's in this league," the scorekeeper notes, "including the umpires.") Or how Luis Lopez, whose daughter is born before the season's second game, still pulls players from both teams aside, whispering encouragement and advice.
It all makes me think back to something Tommy John said. His final game with the Bluefish didn't come with much fanfare—after all, he shocked the team and the owner with his announcement. Someone said some nice things over the P.A. system, but it was a day game and most of the tickets had gone to local libraries for their reading incentive programs. Still, at the end of the fifth inning, when the grounds crew was getting ready to run out of the Bluefish dugout and touch up the field, John decided to grab a rake and join them. "I'd always wanted to drag the field," he told me. "So I said, 'Why not? This might be my last chance ever.'"
Craig Fehrman is a writer who lives in Milford, Conn. You can read more of his work at his website. His first story for Deadspin was about Jericho Scott, the youth-league pitcher who, as a 9-year-old, was supposedly banned for being "too good." Tommy John photo via Getty.