Jimmy "Superfly" Snuka, Marty Jannetty, and Joe "Road Warrior Animal" Laurinaitis were among the more than 50 former WWE wrestlers who filed a class action lawsuit against the WWE and Vince McMahon in U.S. Circuit Court this morning, alleging that they sustained multiple traumatic brain injuries as a result of wrestling for the WWE. They allege that the WWE did little to protect them, failed to provide adequate health insurance and post-career support, and actively hid medical information about the dangers of wrestling from them. Bloomberg first reported on the suit.

The complainants lay out a case that Vince McMahon was all-powerful in setting up and orchestrating bouts, as well as foisting "Booking Contracts" upon wrestlers that stripped them of their labor rights. (Wrestlers were—and still are—contract employees, rather than staffers, so they don't receive health insurance.) Thus, they were forced to rely on in-house WWE doctors to diagnose and treat their injuries, which was a weak substitute for full-scale medical coverage. The suit cites interviews with doctors who say that they would return obviously concussed wrestlers to the ring "9 out of 10 times."
Because their work for the WWE was performance, matches were rarely called because of injury. "The wrestlers' pay depended upon their ability to perform," the suit says. The group of wrestlers specifically cites the body slam and the piledriver as commonly-used moves that carry an inherent risk of head trauma. They say that the WWE's 2006 implementation of a health and wellness program for wrestlers was a positive step forward, but it still relied on self-reporting of injuries, which never solved the "conflict of interest" at the heart of the WWE's relationship with its talent.
The WWE released a statement dismissing the allegations as "ridiculous":
"This is another ridiculous attempt by the same attorney who has previously filed class action lawsuits against WWE, both of which have been dismissed," the organization said in a statement. "A federal judge has already found that this lawyer made patently false allegations about WWE, and this is more of the same."
G/O Media may get a commission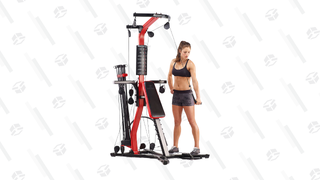 31% Off
Bowflex PR3000 Home Gym
The full lawsuit is below.