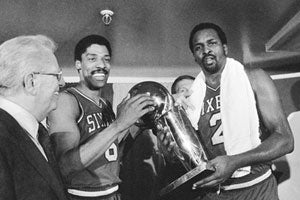 For the Julius Erving completist, there's some neat stuff available at auction later this week. Besides his NBA and two ABA championship rings, there's also his class rings from high school and college. Or maybe his gameworn Pythons uniform from The Fish That Saved Pittsburgh. Or the watch he received for winning the Sporting News ABA Player of the Year in 1973. That last one's extra valuable because, despite this and this, neither of those things exist anymore.
But what could spur a proud sportsman to part with iconic memories of his glory days? The same thing that spurs many proud sportsmen to part with iconic memories of their glory days: a need for some quick cash. Last week a Georgia bank filed suit against Erving, seeking repayment of more than $200,000 remaining on a loan he took out in 2009 to buy a golf course. That golf course is now in foreclosure.
The auction house denies that the sell-off is happening because of the cash shortage, but Erving shouldn't be ashamed if that is the case. This is only sad if you consider a championship ring a priceless relic. But players should feel free to consider it as an additional playoff bonus. Thanks for winning us a title. Here's a get-out-of-debt-free card if you ever buy a failing golf course.
Doctor J to auction memorabilia [Philadelphia Daily News]
Bank sues Dr. J for $200K [Atlanta Journal-Constitution]