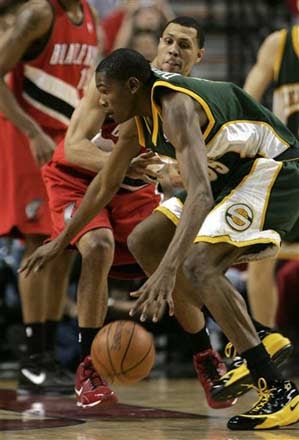 You may remember the great Draft Kevin Durant site, which implored the Blazers to draft Durant over Greg Oden. One might say the pick worked out well for both the Sonics and the Blazers; the Sonics have their franchise player to take with them to Oklahoma City and the Blazers are the NBA's hottest team, and they still have Oden to look forward to. But Draft Kevin Durant has remained doggedly insistent, and yesterday their persistence paid off.
Yes, at last, Draft Kevin Durant met the real Kevin Durant. It was a as pleasing an experience as you would suspect.
To me, it was like an episode of Oprah where long-lost siblings are reunited, cause for tears, celebration and I-need-to-take-a-step back awe. To him, it was just another pre-game interview in which he is eating a granola bar and counting down until game time. I understand him. And, for some reason, I think he understands me too. White fan; Black athlete. It's a story often told. This is the NBA.
This pretty much sums up every interview between an athlete and a reporter, since the beginning of time.
Kevin Durant Interview [Draft Kevin Durant]