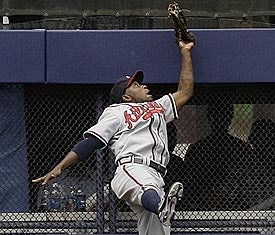 Remember the old days in the NL East, when the Braves were pulling this crap on the Mets all the time? Willie Harris provided the heroics in the outfield and Chipper Jones the muscle in the clubhouse as Atlanta picked Mr. Met's pocket, 7-6. Harris leaped above the left-field fence to pull in Carlos Delgado's drive in the ninth to preserve the win — after also (possibly) robbing Moises Alou of a three-run homer in the first. As a result, the Braves moved to within 3 1/2 games of first-place New York in the East as Atlanta heads to Philadelphia.
Afterwards, Chipper Jones shooed away New York reporters from his locker complaining that he was misquoted on Thursday, regarding Alex Rodriguez and steroids. I think Chipper is full of it, but you be the judge.
• Mariners Are In First Place In Wild Card Race ... And In Our Hearts. If you find it hard to believe — as I do — that the Mariners haven't swept the Orioles in a three-game series since 2000, then feast your eyes on this. Ichiro Suzuki and the great Yuniesky Betancourt each had three hits and three RBI to lead Seattle over Baltimore 13-8. The Mariners scored 31 runs on 49 hits in their three-game sweep, and are one game ahead of Detroit and New York in the AL wild-card race.
• Your Rafael Furcal Update. New Rule: Players who leave more men on base than they drive in are not allowed to point to the sky when they finally hit a homer. Rafael Furcal, so inept during the regulation nine (runners in scoring position three different times), so glorious in extras. His homer in the 11th led the Dodgers over the Reds 5-4, ending six-game losing streak.
• Cubs Lash Out. OK, everyone who said we were done? Take that, you bastards. Cubs 10, Rockies 2. BITE US!
• The Indignity ... Devil Rays 8, Tigers 1. Past two games combined: Devil Rays 15, Tigers 2. How mortifying.