A lot of Golden State Warriors players are goons. Andrew Bogut is a goon. David Lee is a goon. Draymond Green is a goon. Steph Curry and Klay Thompson might run the most beautiful offense in the league, but the Warriors' goonery is an important component of their league-leading defense. But they've been so good this season that the goonery has instead mostly manifested itself in a hilariously arrogant swagger. No player typifies that better than Draymond Green.
On Saturday night the Warriors beat the Rockets for a third straight time this season—the first two were double digit victories—absolutely pummeling them in Houston by 25 points. Three days later the Rockets posted a (since-deleted) Instagram video of the pre-game huddle, with James Harden declaring that the Warriors "ain't even that good" before he was held to 4-15 shooting in the shellacking:
Because the scheduling gods had to balance out the post-apocalyptic wasteland that was Sixers-Knicks on the same night, the fourth and final Rockets-Warriors matchup of the season was yesterday, the day after Harden's comments went public. It did not disappoint.
Playing perhaps their most complete game of the season, the Warriors ran the Rockets out of the gym. At halftime they were winning by 20, and the first half was punctuated by plays like Bogut blocking Dwight Howard twice in a row and Curry pick-pocketing Howard and draining a one-on-five, one-legged, twenty-foot jumper. In the second half the Rockets came unglued and began lashing out, beginning with Trevor Ariza "accidentally" bumping Steph Curry:
In an interesting reversal of circumstance, it was the mild-mannered Curry who went after the Ariza, while goon Draymond Green held him back. Ariza got a technical, and five minutes later, Josh Smith was ejected after arguing with the referees. The Warriors "only" won by 13, but most of the (at its largest) 30 point lead was given away when both teams were playing their benches. Besides, for the fourth time this season, the "ain't even that good" Warriors beat the Rockets by double digits.
G/O Media may get a commission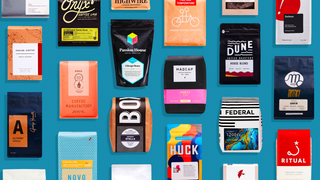 Get $25 free
Trade Coffee - National Coffee Day
Post-game, Draymond Green was in no mood to beat around the bush. Taking a cue from Russell Westbrook and Marshawn Lynch, Draymond Green repeatedly answered questions from the media with the same line. But instead of doing so because he was frustrated with them, Green sarcastically worked "because we ain't that good" into every answer to mock Harden. Take a listen:
A: We not that good. You saw it. You got Twitter?
Q: Yeah.
A. You got Instagram?
Q. Yeah.
A: I'm sure you saw it. We're not that good. I guess we not that good then.
Q: What do you think it says about them losing four games in a row to a team that's not that good?
A: Yeah, you know, if we're not that good, then they're in trouble. Four losses to somebody that ain't that good?
Warriors beat writer Diamond Leung has a transcript of the gleeful Green—including questions not captured in the recording—who was, in Leung's words, "dripping with sarcasm."
When over-the-hill columnists go on their "basketball isn't as good as it used to be because everything is called a foul and the players are friends because they grew up playing AAU together" rants, I sigh like everybody else. But one thing that does seem to be less prominent in the present-NBA is relentless shit talking. Whether it was Larry Bird embarrassing Xavier McDaniel, Reggie Miller taunting the Knicks and Spike Lee, or Michael Jordan being Michael Jordan every day, not just beating but personally embarrassing your opponent used to be woven into the fabric of the league.
With Kobe Bryant and Kevin Garnett approaching retirement, the stars of today are marketer-friendly types like LeBron James, Kevin Durant, and Stephen Curry. They're great players, but there is very little edge in their on-court persona. The only stars you might call mean are Chris Paul—who is more cheap shot artist than "mean," and has a line of commercials premised upon him being one-half of a nerdy pair of twins—and Russell Westbrook. That's why, despite some well-chronicled limitations, people love Russell Westbrook: because you can tell he is trying to murder his opponent every time he dunks, and that is viscerally thrilling to watch.
As a "lunch pail" player whose debilitating defense often doesn't show up in the box score, as the cliche goes, Green is usually described by writers with a thesaurus worth of cliches for hard-working. Being from Saginaw, Michigan, contributes to the narrative. It is decently accurate, but also betrays the ludicrous amount of confidence Green has in his own abilities. He was an unheralded second round pick, but Draymond Green is playing his way into a max contract through sheer force of will.
He's a goon. He's arrogant. He's disrespectful. He's an asshole.
He's my favorite player in the NBA.
Photo via Ben Margot/AP