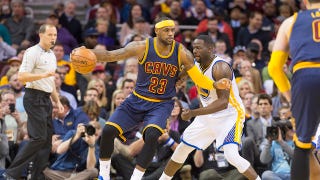 Draymond Green has been the breakout player of the NBA this season, rumbling, defending and trash-talking his way into a potential max-contract this summer.
Green will likely be called upon in the Finals (when they finally start Thursday) to match up with LeBron James. As it turns out, a college-aged Green had some thoughts about James during his initial stint with the Cavs and his time with the Heat (screenshots via iah725 on Imgur):
Of course, college students say dumb things all the time. I say/write dumb things almost every day. Green isn't even the first current NBA star to have a Twitter past with LeBron. You can head over to Imgur and read even more tweets from Green.
The lesson, as always, is never tweet, never Facebook, never Instagram and never snapchat.
[Imgur]