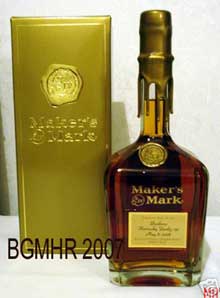 It was only a matter of time until this happened: Barbaro-branded bourbon.
Officially, it's Maker's Mark, which is officially bourbon, we suppose. (It's the Dewar's of bourbon!) And it's being sold on eBay right now, for $99, with $15 shipping, which is also a lot.
It is not yet known if any part of Barbaro is actually in the bourbon, but there's really only one way to find out. Drink it, and then see if you are stronger, more powerful, possessing the ability to fly.
We can't quite read what that plaque says, but if it doesn't end in "Affirmed," we don't want any.