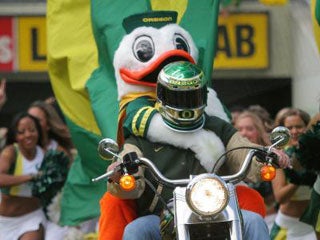 Not everyone can watch the Ohio State-Wisconsin game, so it pains me to tell you all that it's actually quite a good game. Wisconsin had an amazing fake punt, where No. 94 threw to No. 97, quite possibly the longest offensive play in Wisconsin history where two players with 90-something jerseys touched the football. Still, OSU just recovered a fumble and it's 7-3 Buckeyes, soon to be more.
Earlier today, ESPN GameDay froze their scrotums off in the wee Oregon morning hours. But right now, Nebraska is up on Kansas early, Florida is pulling away from Vanderbilt, Wake Forest and Virginia swap field goals, And the Nedyssey Continues...
There's an amusing sign in Eugene today that says "Gameday Hates Corvallis", but the sign's designer decided to put images that add up to "Desmond Howard Hearts Jack Daniel's," I think. — Signal to Noise
Gameday sign - Lee Corso Is A Throbbit - anyone know what the hell a throbbit is? — Jerkwheat
Today is my last football game as a University of Florida undergrad and the only thing I can think of other than getting the shit out of this armpit of a hole is not being able to wait to get back to somewhere where people acknowledge the existence of college football before 1992. Also, I'm gonna miss Mr. Twobits, that dude is awesome. — tylerisgod316
Having class (and a test no less) on a Saturday? Extremely shitty. The one benefit? The drinking game we invented. Every time he goes off on a tangent, we take a shot, every 10th is a mind eraser (aka a strike out). He's been lecturing for 30 minutes now and we're at 12. We've got another hour of this. what's this have to do with football? I'll be doing my drinking to ease the pain of Vandy keeping it close with UF. Hail Mary, full of grace, our Lord is with thee. Blessed art thou among women, and blessed is the fruit of thy womb, Jesus. Holy Mary, mother of God, pray for our livers now and at the hour of our death. Amen. — TattooedMess(iah)
They are freezing their balls off on Gameday, and I think Fowler has been drinking scotch coffees to keep warm. — kabukifantasy
An utterly disappointing sign selection from the Oregon Ducks today until... "It burns when Sparky pees". That's better, kids. — Deep South Deadspinner
Why the fuck are there only big ten games on espn right now? I thought they had that network that nobody could watch so we wouldn't be forced to watch D-3 football when we woke up. Also, this is the closest to a night game we've had in Oregon in 3 years cause we tend to get too fucked up...last time i rolled down 15 bleachers till somebody stopped me and gave me a blunt. — hebighebadhejohn
Purdue vs Penn State is a better game, but I can't escape the siren's song of Pam Ward's baritone. — Jason, Ft. Wayne
I love those beef jerky commercials with Pam Ward, but why do they insist on calling her sasquatch? — sagerbombs
Does every Purdue coach have a mustache? — goathair
The officials just overturned a TD for Florida. Why are we letting Communists officiate this game??? — MrRedDevil4Ever
Send your snippets of NCAA lore to the AOL Instant Message screenname: NCAA Deadspin.