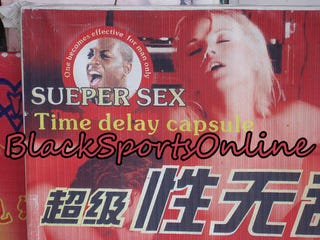 Dwyane Wade's plummet from fresh-faced NBA megastar to injury-prone cellphone salesman continues on its downward spiral, as the Miami Heat guard has popped up as the new face of Chinese-based "Sueper Sex", a pre-intercourse "time delay capsule" according to Black Sports Online. (Via Sports Business Digest)
But not so fast: The image on the packet is the same one used on NBA Live 06 and was, according to Wade's spokespeople, not authorized by the NBA star. So, this isn't one of those situations where high-profile celebs get millions of dollars in Asia to promote blue jeans or beer. This is actually more comparable to when Ellen Griswold becomes the shower-dancing star of "The Hot, Wet Wife" in Italy.
Hopefully, D-Wade has a good lawyer in his five.
Dwayne Wade: Long, strong, and down to get the friction on! [Sports Business Digest]























From Finals MVP To Sex Pill Pusher [Black Sports Online]