After the Pacers thoroughly dominated the Heat Saturday night, the Big Three are starting to show the signs of frustration we all wondered about when they initially signed together just about three years ago. When a team loses and one of its stars is struggling, there's usually only one way to fix it, according to the star: get me the ball.
Dwyane Wade said as much last night after the game and he's been whispering it, not surprisingly, since he's been struggling this series. His recent quotes are a master class in passive-aggressive bitching about the ball and they are completely natural.
"We've got to do a good job of making sure me and Chris have our opportunities to succeed throughout the game," Wade said. "That's something we're going to have to look at as a team."
Translation: LeBron has the ball too much.
"We've got guys individually who want to play better," Wade said. "But we've got to try to help each other out in this locker room and not leave it up to the individual to self-will it."
G/O Media may get a commission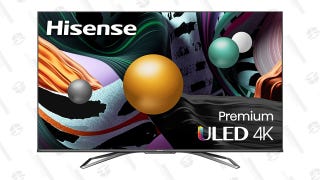 Save $350
Hisense ULED 65" Android 4K HDR Smart TV
Translation: LeBron has the ball too much.
And here, from before the game, is a quote just dripping with subtext:
"I get a little more rhythm defensively, I get to defend every play," Wade said. "Offensively, I don't get the ball every play. So it comes a little different. You know, the rhythm is a little different."
Translation: The rhythm is a little different because LeBron has the ball too much.
It's not that Wade is wrong (or right) it's that Miami has seemingly avoided this "role in the offense" controversy for as long as it has. But that's all out the window, now. LeBron has become the unquestioned star/leader/whatever-you-want-to-call-it of the team Wade used to be the unquestioned star of and in the lead-up to Game 6 the major storyline was whether LeBron had more help from his 2007 Cleveland team.
More help. Imagine you are Dwyane Wade and you just heard Kurt Rambis unfavorably compare you to Daniel Gibson. You'd be pulling a Keyshawn, too. Recent games seem to back up what Wade is saying—Wade and Bosh are shooting less while LeBron is shooting more and making less—but the Indiana Pacers have played the Heat well all year. They are allowed to win games, too and that requires playing defense and stopping the Heat from doing whatever it feels like. All too often series analysis—especially with dominant players on dominant teams like the Heat—is boiled down to a simplistic "[X] didn't perform."
The natural reaction to which is, of course, "I didn't get the chance to perform." So Wade is protecting himself from a media looking to find an explanation for the hooves it is hearing and it's settled on zebras. But it's more than just Wade and Bosh "disappearing." Writing them off like this does a disservice to Wade, Bosh and the Pacers.
Photo Credit: Getty