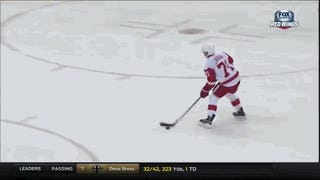 Red Wings Dylan Larkin transformed Devils goalie Cory Schneider into a fish out of water Monday night. Larkin kicked up his leg, faked a shot on Schneider's stick side, and went back around. The goal was Larkin's 14th of the season. This rookie's pretty good.
Larkin was the only player who scored in Detroit's 1-0 victory.
H/t to Matt
---
Contact the author at samer@deadspin.com.