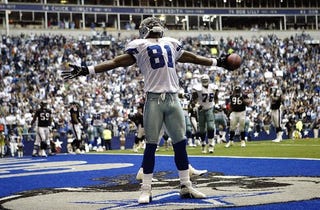 Ed Werder didn't garner any respect from Cowboys fans (clearly) when he reported a rift between most of the Cowboys' playmakers in early December. Now, Werder's saying (again) that T.O. might get cut.
You have to admire Werder's moxie. He was heavily criticized for his aggressive reporting during the first Cowboy incident, called a liar by T.O. and Patrick Crayton (and, essentially, by Stephen A. Smith, too) for going ahead with another story featuring unnamed sources. It wouldn't be a surprising move on the Cowboys part, considering that T.O's 35 and, well, kind of a self-absorbed prick. Here's what Werder's Cowboy Deep Throat speculated:
"I think we all know that chemistry is the problem with this team more than the schemes or anything else. Are we going to continue to allow talent to outweigh everything else in the decisions we make with players and putting the roster together? We're like the Redskins used to be when they signed every player they wanted. There's more to it than talent. It has to be more about the team."
It's important to note that the Cowboys still haven't had any formal talks with T.O. yet, so this is all backroom speculation. Another interesting aspect of this new report was pointed out by NFL tree-shaker/Italian Talking Head, Mike Florio. PFT says this "new" story is essentially a repackaged version of the Pacman Jones television report Werder ran last week, with T.O. as the lede item this time around.
Crafty. Angry Cowboy Chris should just follow Werder around wherever he goes this offseason and scream at him.