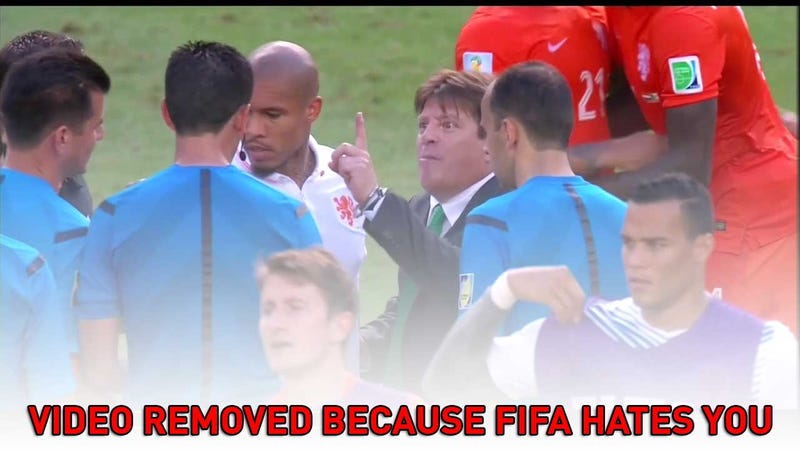 While Belgium haven't performed as well as many expected coming in, the Red Devils do look to have some sort of a strategy in these games: Keep the match tight for most of the day, make a couple substitutions, and when things get desperate, wait for one of your super midfielders to craft a winner. It worked against Algeria, and today it gave them a 1-0 win over Russia, putting Belgium through to the next round.
Let's be frank: This match mostly sucked. Early on it looked like Belgium might finally capitalize on all that attacking talent that made the Red Devils a trendy pick to make a semifinal run. Dries Mertens, starting today after scoring in a substitute appearance in their first match, especially looked dangerous flying through the right wing in the first half. But eventually the counters dried up, as did both teams' desire to go sprinting around under the beating sun.
Regardless of their energy levels, Belgium still had the best players on the pitch. The problem with a team boasting so much talent in attacking midfield, though, is that those dribbling phenoms tend to rely on their own creativity rather than building chances as a team. A couple of times Mertens found himself loose on the wing where a simple ball to striker Romelu Lukaku would've lead to a higher-percentage shot than whatever he could muster with multiple markers from a bad angle. It wasn't a surprise seeing Lukaku pissed off after being substituted before even an hour had elapsed.
On the other hand, having such an embarrassment of riches in attack means one or two additions can change the game. Lukaku came off for the 19-year-old Divock Origi, Mertens made way for Kevin Mirallas, and Belgium started really gunning for the win.
In the final 15 minutes, star winger Eden Hazard finally managed to put his imprint on the game. He ran through Russia's left flank at will, fashioning a couple great chances for his own right foot and others for his teammates. At the critical moment, it was another Hazard run that lead to Origi's goal.
From a languid counterattack—at this point, Belgium and Russia were both so tired that there were more joggers than sprinters out there—on the left, Origi flicked out a ball for Hazard. The Chelsea man carried it further towards the touchline, and completely left a Russian defender flatfooted and for dead into tons of space in Russia's penalty area. From there, a simple cut back to Origi and a calm blast over the keeper in the 88th minute gave Belgium a lead they wouldn't relinquish.
It may not make for great viewing, but maybe conserving energy until the last minute when your superstars will take over isn't such a bad idea in the hot and muggy conditions of this World Cup. After all, of all the pre-tournament favorites, only France have consistently looked dominant for two games so far. And that strategy is working pretty well for Argentina, too. If it's good enough for Messi, why can't it be good enough for Hazard and the boys?
[Univision]