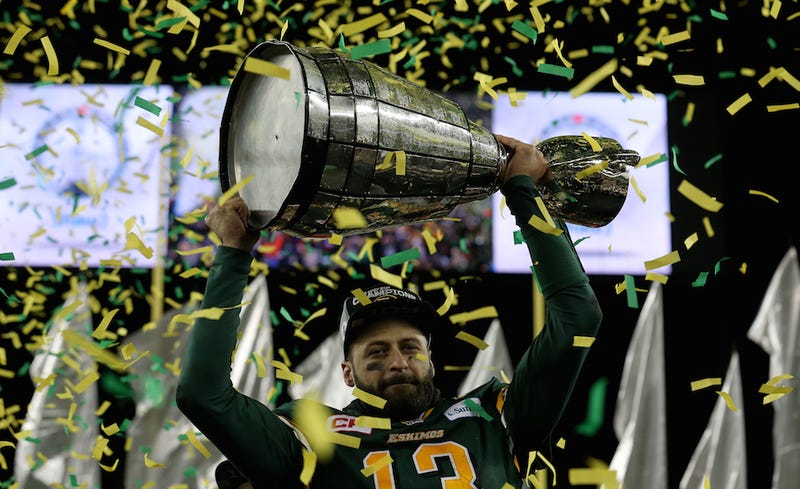 The Edmonton Eskimos defeated the Ottawa Redblacks 26-20 Sunday and won their first Grey Cup since 2005. Here's where we'd say you wasted your time watching another week of regular-season NFL, but the 4 p.m. Steelers-Seahawks game was pretty damn good. The Grey Cup was good, too.
Edmonton crawled back from an early 13-0 deficit to take a 17-16 lead into halftime. Ottawa's field goal and a trade of rouges—here's an example of a rouge—gave the Redblacks a two-point lead, but Jordan Lynch, the former Northern Illinois quarterback who tried converting to running back for the Chicago Bears but didn't make the team, scored the game-winning touchdown on a one-yard dive. A two-point conversion sealed Edmonton's championship.
The Grey Cup is a respectable trophy. It has the cup-like qualities of the Stanley Cup, but is intended for football. The Lombardi Trophy doesn't match its personality:
The trophy's journey to the stage was pretty laid-back. The mounties brought it through the stands:
Edmonton quarterback Mike Reilly received the cup first, and kissed it before his teammates crowded around the trophy:
If only the Grey Cup had happened tonight. I would have absolutely watched it over the second-half preseason game that will be tonight's Ravens-Browns matchup with Josh McCown and Matt Schaub.
Photo: Getty Images
---
Contact the author at samer@deadspin.com.