TSN Off The Record host Michael Landsberg appears to have just broken one of the great sports stories of the year, a stirring tale of the triumph of the human spirit that doubles as a horrifying scandal, unless he didn't. It was definitely one or the other. Probably.
Jokic? Embiid? The NBA MVP is obvious... right? | Keep it a Buck(et)
During an interview with Fox Sports pundit/middling professional fighter Chael Sonnen today, Landsberg said he'd been hearing that the day before he was knocked out by Rashad Evans last month, Sonnen had had surgery to remove a piece of his bowel. Sonnen stoically declined to confirm or deny this, just saying that he wasn't much for making excuses after a loss.
"Since you're not denying it," said Landsberg, "I'm gonna say it is the truth, that you had some kind of surgery to remove a piece of your colon or bowel or whatever it was." TSN then posted an item on their website, reporting that Sonnen had had "several inches of his colon removed" just before fighting.
G/O Media may get a commission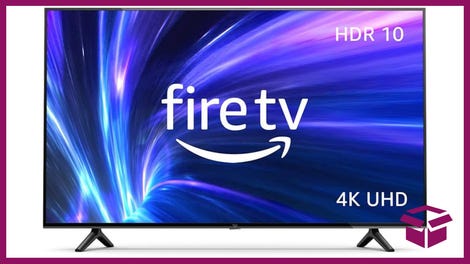 42% Off
Amazon Fire TV 50" 4K Smart TV
For the Nevada State Athletic Commission to license a fighter the day after the removal of several inches of his colon would, of course, be rather unusual.
"We were never informed of any such surgery, if it even occurred," said Keith Kizer, who runs the NSAC. "I just checked with [UFC vice-president] Marc Ratner, and he said he hadn't heard of anything like that.
"It's not uncommon," he added, "for fighters to make excuses up after they get beat up in competition. I hope that's what this is. I don't know, I plan to find out."
Kizer may hope that this all amounts to a tall tale, but for our part we'd like to think that, say what you will about him, nothing—not amputations or bypass surgery or brain extraction—would keep Chael Sonnen from jumping off an operating table, marching straight into the cage, and getting the shit kicked out of him.
Update, 6:11: Well, the full segment aired, and now we have footage of Landsberg reciting poetry to Sonnen for some reason.
Meanwhile, Keith Kizer got back to us with the following:
I checked with the UFC. They verified with Chael and his team that he did not have any surgery prior to the Rashad Evans fight. According to Chael, the interviewer asked him a question and Chael, coyly, didn't answer him directly as the article clearly states, and the interviewer inferred that the answer to his question was in the affirmative.
So, yeah.