We're doing a season-long NFL roundtable with our friends at Slate. Check back here each week as a rotating cast of football watchers discusses the weekend's key plays, coaching decisions, and traumatic brain injuries.
« Previous entry | Next entry »
For the second time in four years, Eli Manning led a last-minute drive to beat the favored Patriots in the Super Bowl. Somehow, this one was weirder than the time the Giants won because a guy pinned the ball against his helmet. Manning's moment of glory came when the Patriots decided to let the Giants score and Ahmad Bradshaw couldn't stop himself from tumbling backwards into the end zone. As Bradshaw crossed the goal line, Manning stood at the 15-yard line, his arms half-raised in quasi-triumph. This was the most Eli Manning moment of Eli Manning's career: a hero shot in which the conqueror looks totally confused by his conquest.
G/O Media may get a commission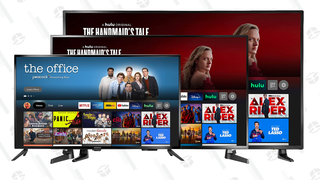 Up to 44% off
Prime Early Access - Insignia Fire TVs
In the movie version of the Giants' 21-17 Super Bowl XLVI triumph, the role of Eli Manning will be played by Mark Sanchez—now that guy looks like a real winner. In the meantime, we'll have to change our view of what clutchness looks like. After his touchdown pass to Aaron Hernandez gave New England a 17-9 lead, Tom Brady punched the sky and screamed with neck-distending force. It's impossible to imagine Manning ever striking a similar aggro posture. He is competitive without any threat of physical menace—a guy who borrowed Captain America's uniform and shield but forgot to take the super-soldier serum.
For the first three years of his career, even Manning's teammates couldn't believe they were looking at greatness. "His personality hasn't been so that he can step up, make a strong statement and have people believe that it's coming from his heart," newly retired Giants running back Tiki Barber said in 2007. "Sometimes it was almost comical the way that he would say things."
Two Super Bowl wins later, Eli has yet to figure out how to talk like a champion. After the game, Dan Patrick tried to conjure a scenario in which the younger Manning was an ostentatiously savvy on-field general in the mold of his brother Peyton. "The playcalling [on the final drive], how much was that you with, maybe changing plays?" Patrick asked. "No, that's Coach Gilbride," Manning responded. "He called a great game plan." Hail the conquering offensive coordinator!
For much of the second half, Manning did not look at all commanding, even by his modest standards. The Giants offense moved in low gear, with Manning throwing short balls and settling for field goals, seemingly indifferent to or unaware of the danger that one big play from Brady could put the game out of reach. Twice, Manning had to burn timeouts to fend off an expiring play clock, moments of desperation that left the Giants at a disadvantage heading into the endgame.
But Manning kept picking away at the Patriots' patchwork secondary, connecting repeatedly with Mario Manningham, Victor Cruz, and Hakeem Nicks—he of the hands that, Cris Collinsworth would like you to know, are "three inches larger than those of the average man." He aired it out once, for what would be the play of the game: Manningham's 38-yard sideline grab—an over-the-shoulder catch between two defenders and within an inch of the sideline. Add the fact that Manningham nearly landed in the lap of Bill Belichick, who never uncrossed his arms even as he was confronted by pure athletic genius, and this might be the greatest play in NFL history. How much of a role did Eli Manning play in it? He put the ball where it needed to be, but he wasn't in the picture when the incredible part happened.
On the Patriots' side, Brady didn't get the help he needed from his receiving corps. With Rob Gronkowski hobbled, Brady—who set a Super Bowl record with 16 straight completions—spread the ball to Wes Welker, Aaron Hernandez, and Danny Woodhead. But with just more than four minutes to play, Welker—the NFL's leading pass-catcher—dropped a throw at the Giants' 20-yard line. "Welker makes that catch 100 times out of 100," Collinsworth said, overestimating the numerator by at least one. ("Ninety-nine percent of the time, he makes that grab," Welker's more-realistic teammate Deion Branch said after the game.)
If Welker makes that snag as he's leaping and falling backward—in the NFL, that's a 99-out-of-100 catch—then the Patriots are close to clinching the game. At the very least, they would've forced Eli Manning to drive the Giants to a game-winning touchdown with no timeouts and just a few minutes on the clock. In that alternate universe, a victory would've been an unalloyed triumph for the milquetoast signal-caller. Every kid in America would stare reverently at the Eli Manning poster on his bedroom wall, trying desperately to emulate the goofy nonchalance that would inevitably come to signify 21st-century alpha maleness.
Instead, Manning got the ball with a little under four minutes to work with. Manningham's catch brought the Giants to midfield on the next play. From there, no more heroics were needed. Manning persistently chipped away, nudging the Patriots defense downfield till New England had no choice but to get out of Bradshaw's way.
As a consequence, we now live in a world where Eli Manning's greatness is impossible to question, yet still difficult to understand. This is what a sports hero looks like? Yes, I guess it is.
Josh Levin is Slate's executive editor. You can e-mail him at sportsnut@slate.com, visit his website, and follow him on Twitter.