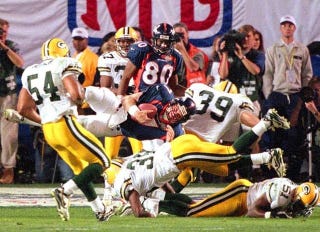 With the Denver Broncos franchise essentially reduced to rubble, John Elway will face a hell of a lot more than 98 yards versus a Cleveland Browns defense when the team introduces him as VP of football operations this week.
But John Elway is a god, so He will revive and restore the team.
From NFL.com...
According to The Denver Post, the Broncos likely will hold a mid-week news conference to formally announce Elway's appointment as vice president of football operations — a title once held by former coach Mike Shanahan.

"If and when we reach an agreement with John Elway, Pat is very confident that John's intelligence, his leadership, business savvy, his knowledge of the game, and competitive fire — plus the respect that everyone in this building will have for him — will make us better right away," Joe Ellis, the Broncos' chief operating officer, told the newspaper.

Ellis downplayed the notion that hiring Elway, perhaps the most popular athlete in Denver sports history, is a public-relations attempt by a franchise that hasn't made the playoffs since 2005.

"It is not a PR move," Ellis said. "That would be a waste of John's time and our time and the fans' time. Because we need to win. He'll roll up his sleeves and do his job."

Elway also will have a say in the team's next head-coaching hire after Josh McDaniels was fired during the season.