Last August I interrupted a weeknight of carousing to go home and write about my hometown Eagles' signing of Michael Vick because I was just so dumbfounded by the move. My headline was "JESUS FUCKING CHRIST." It's more apt now.
For SEO purposes, this was not the best approach, but after one and a half games of Michael Vick controlling the Philadelphia Eagles, it's taken on a different tone. Hyperbole in this headline aside, it does appear this sleeker, inspired version of Mike Vick the NFL gets right now could be better than the first iteration (one Vick admits was lazy and nonchalant, getting by more on otherworldly athleticism than cerebral quarterbacking ). Now, Mike Vick is humbled and PR savvy, but he's also excited to be in this position again, like he told Eagles apparatchik Dave Spadaro.
"Sometimes I do things that I don't even know I'm doing," said Vick. "Guys come to me on the sideline and ask, 'Did you know this guy was coming?' I don't know. I just react."
It's like a superhero remembering that he has the ability to blast fire from his hands or melt metal objects with his brain.
Ignore the fact that the Eagles played the Lions yesterday for just a second and focus on some of the breathtaking shit God enabled Mike to pull off.
G/O Media may get a commission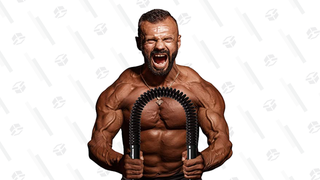 10% off
Zenooze Boa Power Twister
Like this.
Or this.
Or, especially, this, in which he basically levitates after taking an open shot yet still manages, while falling backward, to complete a pass for a positive gain.
Now because this Eagles season was preemptively put in the "rebuilding" category by most of the growling die-hards and, apparently, the coaching staff and front office, the Birds will still trot out poor Kevin Kolb next week against the Jaguars because that's The Plan and, as anyone who's followed Andy Reid's coaching tenure knows, The Plan cannot be compromised even when logic indicates otherwise. Of course, the clamoring for Vick has already started, even if it's reluctantly done so by the Iggles beat patrol, who I think were a little relieved about Donovan McNabb's departure just so they could move on to a more positive mindset.
But this is important because the Eagles are not only depriving themselves of their best opportunity to win now, they're also willfully sitting a guy who, on a week-to-week basis, could be the best player on the football field. Vick, even at age 30, still has enough of an upside that an organization might reasonably consider building around him. A bigger upside than Kolb's, at least, and although he may very well turn out to be the next Aaron Rodgers or Matt Ryan, he will never come close to Vick's potential. This is not his fault — not many NFL players can right now.
So whomever Vick plays for this season (should the Eagles retardedly trade him because his market value is so high) or next season, lucky them. He could be a better player than anyone ever imagined.
PHOTO: Via Trentonian