Oklahoma City Thunder center Enes Kanter has been detained in Romania, claiming that he has been held by police for hours and that his passport has been seized on orders from the Turkish embassy.
Kanter is a native of Turkey and was traveling to Romania from Indonesia, according to ESPN, as part of a global tour with his charitable foundation. He shared details about the situation in a video posted this morning on Twitter. "They said they canceled my passport," Kanter said, asserting that the Turkish embassy was responsible. "The reason behind it is just of course my political views."
Kanter has been a vocal critic of Turkish President Recep Tayyip Erdoğan in the past. In this morning's video, he called Erdoğan "a bad, bad man" and "a dictator," labeling him "the Hitler of our century." He also mentioned that he'd "attacked people in Washington," seemingly referring to peaceful protestors outside the Turkish embassy in Washington, D.C. who were hurt by Erdoğan's bodyguards during the president's visit to the White House this week.
After sharing the video, Kanter then posted a picture of himself with the two policemen who are apparently tasked with monitoring him:
G/O Media may get a commission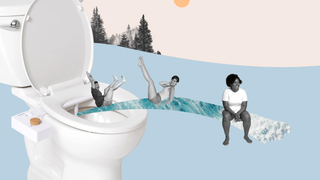 17% off
Tushy 3.0 Warm Water Spa Bidet Attachment
The Thunder told ESPN that they are aware of the situation and working with the league office. If Kanter is deported to Turkey, it's possible that he could be arrested for his outspoken criticism of Erdoğan.
Update (2:10 p.m. ET): Romanian border police say that Kanter has been released and is en route to London, according to the New York Times:
"Today at around 1 p.m. local time an individual arrived from Frankfurt," spokesman Fabian Badila told the Times. "My colleagues established that his travel documents weren't valid, that they had been canceled by his home country, so he wasn't allowed to enter the country. At around 5 p.m., he left the airport on a flight to London. While he was at the airport he wasn't detained or locked up, he was allowed to wander around, but he couldn't enter the country."
It is not clear if Kanter's passport status has changed or if he will be able to return to the United States without further issue.
Update (3:30 p.m. ET): Kanter has landed in London.