England flanker Tom Wood is free to play in his squad's next match against Australia after Rugby World Cup officials determined his knockout kick to Welsh fullback Liam Williams to be a minor offense. The incident took place during Saturday's 28-25 Wales upset.
Williams is doubtful for Wales's Thursday match against Fiji after suffering a concussion thanks to Wood's leg; he was unconscious for several minutes and was taken out of the game on a stretcher. Wood claimed he was simply trying to kick the ball.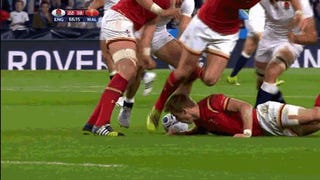 [ITV/Photo credit AP/Kirsty Wigglesworth]
h/t to Dave
To contact the author of this post, write to tim@deadspin.com (PGP key) or find him on Twitter @bubbaprog.