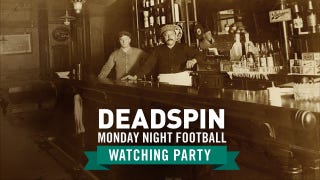 We tried this a couple weeks ago and it was...fun? Depends on what your definition of fun is, I suppose, but I had fun. I always have fun, perhaps too much fun, which may result in soreness the next day. We all fall sometimes.
Details, again:
The Place: Upstairs at Professor Thom's, 219 2nd Avenue, NYC, btw 13th and 14th.
The Date: Monday Night, October 10, Chicago Bears vs. Detroit Lions
The Time: 7:30 until the game ends
Same instructions as last time: Walk into the bar, tell them you're there for the Deadspin meet-up, march up the stairs, and start slamming Soco Lime drink specials. Or whatever else you feel like drinking, but bring money because it's not a goddamn wedding with an open bar. So, see you there? Hope so!
*****
Thanks for your continued support of Deadspin. Go Phils.