Last year, the great though recently slumping Novak Djokovic started doing a unique post-match celebration: He beckons the ball kids to his side, turns to the crowd, and then, in sync, they all do a shoveling motion which has been repeatedly and aptly described as throwing their boobs into the stands. Djokovic directs them to do the awkward shoveling to each side of the stadium. It is truly annoying.
He did it last year when he won the French Open—fine, do whatever you want when you win a Grand Slam—but he also does it after routine blowouts like today's straight-set second-round win over Joao Sousa.
At first, it looks as if Djokovic might be trying to signal an outpouring of love for the fans, placing his hands over his heart and then extending his arms to the crowd. On further examination, though, the hand placement is just too far off:
Ball kids should be appreciated—considering most of their on-court interactions with players consist of catching sweaty towels flung in their face, they surely enjoy the chance to bask in a player's glory—but why make them do something that looks so dumb? What about waving? Or bowing? Or anything other than miming the shoveling away of your own boobs, then reaching up to grab the boobs of a person taller than you?
This choreographed move is awful—and it's not just me. Other people hate the boob throwing, too:
G/O Media may get a commission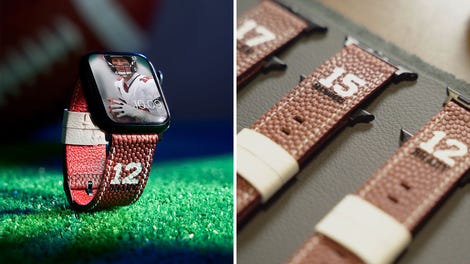 Official NFL PRODUCTS
Official NFL Apple Watch Bands
The boob throwing started while Djokovic was sponsored by Uniqlo and has continued after he switched to Lacoste this month, so it's unlikely that the move is a sponsor obligation, but I reached out to Uniqlo to ask just in case. Find something new, Novak.