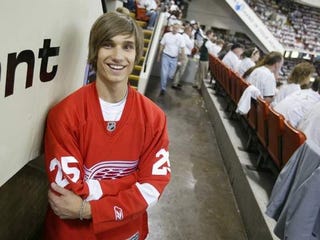 19-year-old Zach Smith, native of Cleveland but lover of the Red Wings, devised an ingenious scheme that would not only allow him to throw an octopus on the ice of Mellon Arena last night before Game 4 but still be able to watch the game after he got tossed. His very canny, super savvy plan: buy an additional $300 ticket.
Then he got tossed. Security guards threw him out.

"You're outta here," Smith said they told him. "Come back in and you get arrested."

But Smith and his two friends from metro Detroit, who asked not to be identified, had a plan.

They had bought an extra ticket in anticipation of his booting. That's an extra $300 from a scalper.

And Smith was wearing a regular T-shirt, instead of Red Wings gear, when he threw the octopus.

Outside, he quickly threw on a Red Wings sweater and walked back into Gate 3.

"I feel great," Smith said as he roamed around the arena. "I'm not nervous. Anything with an adrenaline rush, I love it."
Yeah! Paying a high premium to a scalper! EXTREME!
You gotta love how chickenshit his friends are not to get identified in the article. "Oh d-d-d-dear. We helped smuggle a fan back into an arena in a city we don't live in. If this gets out, we'll never be able to run for president!"