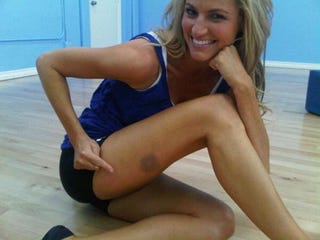 Because no one reads the newspaper, and SportsCenter's anchors are too perky for this early in the morning, Deadspin combs the best of the broadsheets and internets to bring you everything you need to know to start your day
• Look, it's an Erin Anbruise. The ESPN sports personality twisted and twirled her heart out, but it wasn't enough to win over America, as she and Maksim trotted away with DWTS's bronze. It was all worth it, though."I knew that [Nicole Scherzinger and Evan Lysacek] were going to go head-to-head in this, but I came here under really crummy circumstances, and I just wanted to get my life back together and my smile back and I just wanted to be myself again. And you guys have been amazing, [the judges] have and my family up there and [Maksim] has just put my life back together." Aw-sies.Zap2It]
• Frye, Dudley, Barbosa, Dragic, and Amundson beat Lakers, everyone says. And Phil Jackson said before Game 4 that free agency is the last thing he's thinking about. And, no, he's not considering heading to Chicago or the Nets because of that unfortunate Frank Hamblen-banged-his-mother rumor.
• It's early, but here's 30 seconds of Kendra Wilkinson's sex tape which is Not Safe For Cubicles.
• GQ's unleashed its World Cup coverage. How many times do you think the phrase "Are you ready for some fútbol?" will be used by American publications over the next two weeks?
*****
Good morning. It's Wednesday. Bring an extra shirt to work today because you will sweat through the first one.