Around the time that news of Michelle Beadle's departure leaked, there was (surprise!) a US Weekly report that ESPN sideline reporter Erin Andrews and Gossip Girl guy Chace Crawford had gone out on a "couple" of dates. There were also a bunch of tweets about how much time Andrews spends with models Brooklyn Decker and Chrissy Teigen. Earlier this week, TMZ wondered if Andrews had breast implants and offered up a photo gallery of 34 recent bikini pics for you to peruse and judge. (According to a TMZ poll, 55 percent are going with fake. There have been 145,000 votes cast.) Brooklyn Decker weighed in ("they're real and they're spectacular"). On Wednesday, there was a video of of Andrews doing the "Ice Ice Baby" dance with Vanilla Ice.
Erin Andrews's contract is up in two weeks, and stories like these have a way of popping up around contract time. They are useful leaks, wherever they originate—helpful reminders to an employer (or a future employer!) that you're relevant, a star, someone worth writing about and photographing and voting for in online breast-augmentation polls.
So what's happening with Andrews? Not much, one source tells us. As in: There seem to be zero takers, outside of ESPN. At the very least, she's being pursued way less aggressively than either Beadle or Scott Van Pelt were.
"No, I'd never hire her," said one rival TV sports executive whom we cold-called.
Why not?
"She can't host. There's no next step," the exec said. "And she wants more than sideline reporting, but there's no next step."
G/O Media may get a commission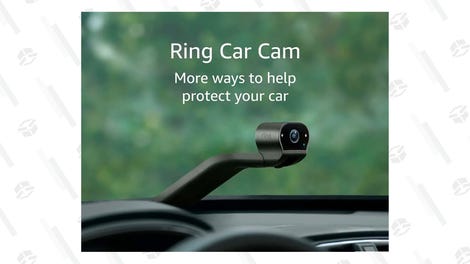 We asked if Andrews's name showing up in Big Headlines over the last few years had somehow made her radioactive.
"It doesn't have anything to do with the scandal stuff. That's what gives her a higher profile," the exec said. "I just don't think she's that talented."
"Turner [Sports] let her go and ESPN tried to give her more responsibility and nothing happened with it," the exec continued. "By the way, if ESPN was in love with her, she'd be on Good Morning America. They did it with Robin Roberts. They have plenty of options to put her over there."
Oh, right. Good Morning America! But she's already on Good Morning America, isn't she? From an interview in 2010, after she signed her last contract:
Andrews' new contract also includes regular appearances on ABC's Good Morning America for stories that won't always involve sports. "Some will be fun and light-hearted," she says. "I don't take myself too seriously and like to have a good time." But having been a victim of stalking, which resulted in a videotape surfacing online a year ago, she also wants to report on crimes against women: "With what I've been through, I want to talk to women who are victims. … And people haven't seen I can have a serious tone. We feel it's important to start off with serious issues so people take me seriously."
And she got on the air right away. There was an August 2010 roundtable with three other stalking victims. There was the spot at the Country Music Awards and the early September 2010 appearance when she took a ride in a stock car. She also served as a part-time analyst for Dancing with the Stars segments.
And then the GMA spots started to fade. In February 2011, she did a few segments on the Oscars—"special Oscars correspondent," is how Robin Roberts described her—and she hasn't been back since. One ABC News source said there's no chance GMA will bring her over fulltime.
"There is no clamoring for Erin Andrews," the source said. "She will never work for GMA."
One of her last appearances on GMA may have been the one that sealed her fate. Andrews came on to discuss helmet-to-helmet hits in the NFL and safety issues in college football (this was in October 2010, three days after Rutgers DT Eric LeGrand was paralyzed). Little flubs piled on top of one another. In an interview with Robin Roberts, she referred to the Buffalo Bills as the Buffalo Bulls (before quickly correcting herself), described Tony Dungy as a "respectable"—not "respected"—former head coach, and generally labored her way through the segment (she quoted an NFL executive as saying, "This weekend just put everything into place," when she probably wanted to go with "perspective"). It was tough to watch.
So, fine: GMA did not work out. But what about in Bristol? Even there, it seems, things are beginning to plateau.
Two ESPN insiders told us that Andrews had interest in the sideline gig for Monday Night Football. That job went to Lisa Salters instead.
So ESPN finds itself in a strong position at the bargaining table. The network trotted out Andrews for last month's upfront (its pitch to advertisers). An appearance at a network's upfront usually indicates favored-child status. But maybe this was a way of saying, Thanks, Erin. You're one of us, and we know you're not going anywhere.
Said one Bristol source: "It feels like her time is kinda passing."