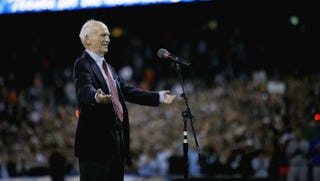 Tiger broadcaster Ernie Harwell passed away Tuesday. Longtime fan and author Peter Hyman suggests his last decade of suffering wasn't entirely health-related.
By now anybody who has glanced at a sports section is aware that broadcasting legend Ernie Harwell died Tuesday evening at the age of 92. As has been noted in every well-deserved tribute his passing has inspired, Harwell was a gentleman's gentleman with a voice that represented all that was good and pure about America's game.
Ballpark flags are at half-mast. The unflappable Vin Scully is shaken. And the entire state of Michigan, it seems, is in mourning.
I don't begrudge the outpouring of emotion. I'll miss the man as much as anybody. I grew up in suburban Detroit without cable, so his honey-soaked radio transmissions on WJR made up the soundtrack of my childhood. He was the sound of summertime (and, by extension, of innocence itself).
This is partly nostalgia tinged with wistfulness, of course. But the sensations of remembering his broadcasts — and the happy moments they represent — are no less real.
And now he's gone.
This moment was inevitable, expected. Even the greatest announcer in the history of baseball can't beat bile duct cancer (though he gave it a yeoman's effort, fighting with characteristic grace and grit).
But while it was a disease of the body that took his life, I believe he suffered a serious wound to the soul on Sept. 29, 1999, when the Tigers played their last game in the workmanlike stadium at the corner of Michigan and Trumbull that had been their home for more than a century.
As the new millennium dawned the team moved across town to Comerica Park, a retro-styled brick shopping mall that just happens to have a professional-grade baseball diamond in its center.
My theory is that the abandonment of old Tiger Stadium broke Harwell's heart. (He was the leading voice of one failed movement to save the stadium, arguing before the city council and doggedly trying to raise $20 million to fund a scaled back 10,000-seat ballpark for youth games built from the existing park's skeleton).
Sure, he dutifully called games for three seasons in the new stadium. The man was a consummate pro, and he wasn't wired to complain. But something in his voice seemed to change after the move. He sounded like a widower haunted by the ghost of his deceased wife, even as she'd urged him to take a new bride from her deathbed.
To a traditionalist like Harwell, Comerica Park must have represented all that was wrong with modern baseball — luxury boxes, corporate branding, the creation of spectacle for the sake of ratings. Ironic then the press box at the CoPa was dubbed "The Ernie Harwell Media Center." It was an honor he never seemed quite comfortable with.
Like the medium that carried his kindly narrations, Harwell was a creature of a kindler, gentler era, one that was about "flannel knickerbockers" and umpires in "blue serge," to quote from an essay he wrote in 1955.
In many ways the soft-spoken Georgian never made it out of the middle part of the 20th century. And we were all the better off for it. Listening to a Harwell broadcast was as much about what he didn't say as it was his astute play-by-play calling and his homespun catchphrases.
Yes, he viewed baseball as "a talkin' game." But he also knew when to shut up, allowing the sounds of the game fill the empty spaces, something modern broadcasters seem pathologically unable to do.
With both Harwell and old Tiger Stadium gone, Tigers fans are now completely unmoored from the 20th century, attached neither to a person nor a place that embodies the franchise's past. This, as it turns out, is also the history of 21st century Detroit, writ small. Let's just hope that that the city can get ahead of the count before it, too, heads to the dugout for the final time.
Peter Hyman is the editor of Netted and the author of The Reluctant Metrosexual: Dispatches From An Almost Hip Life. He tweets @peterhyman.