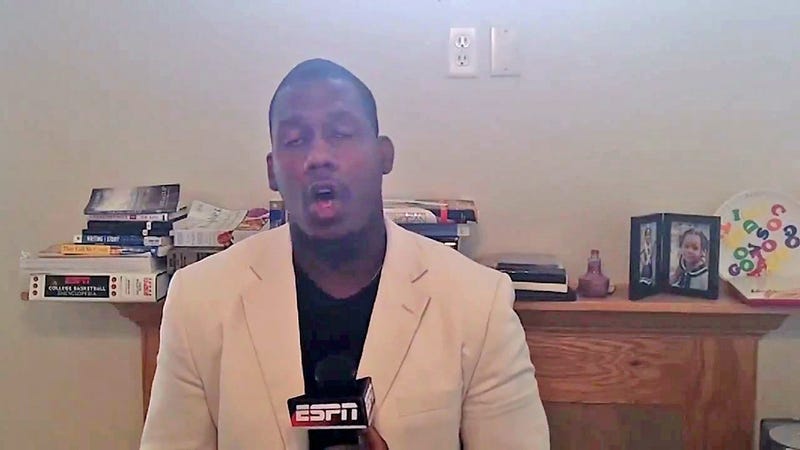 Last Wednesday, ESPN college basketball writer Myron Medcalf made "10 Bold Predictions" for the upcoming Sweet Sixteen and Elite Eight. Now that the dust has settled, it's clear that Medcalf's predictions were indeed very bold, and also very wrong. Let's go through them one by one:
"1. Louisville over Kentucky by double digits."
Double digits! That is bold. Kentucky won, 74-69.
"2. Johnny Dawkins [Stanford] to the Elite Eight."
Johnny Dawkins and his Stanford squad lost to Dayton, 82-72, in the Sweet Sixteen.
"3. Cuonzo Martin [Tennessee], too."
Tennessee kept it close, but fell to Michigan, 73-71. They did not advance to the Elite Eight.
"4. Dayton-Stanford will be the best game of the weekend."
Dayton held a lead of at least eight points through the final eight minutes of the game. Kentucky-Michigan, Wisconsin-Arizona, Michigan State-Virginia, Kentucky-Louisville, and Michigan-Tennessee were all much better games in a great basketball weekend.
"5. Naz Long [Iowa State] will be the difference in Iowa State-UConn."
UConn beat Iowa State, 81-76. You could argue that Naz Long was the difference, in that he went 1-for-6 from three, but it's not bold to hedge and Medcalf explicitly picks Iowa State in his write-up.
"6. UCLA will push Florida to the brink."
UCLA never led in the second half BUT they were down just three with seven minutes remaining, so we'll give Medcalf a B- on this one. Florida outscored the Bruins, 21-13, to safely close out the game.
"7. Overtime for San Diego State-Arizona."
Why would you predict overtime? That's just insane; even if you think a game is going to be very close, whether it actually goes into overtime is a total crapshoot. Arizona won, 70-64, in regulation.
"8. Isaiah Austin's big night will power Baylor past Wisconsin."
Isaiah Austin scored 12 points on 5-for-12 shooting as Wisconsin embarrassed Baylor, 69-52.
"9. The Vols will go down swinging against Louisville in an Elite Eight thriller."
Neither of these teams made it to the Elite Eight.
"10. Tom Izzo's Final Four streak will end."
This happened! Michigan State fell to UConn, 60-54, in the Elite Eight, and, indeed, Izzo's 2014 seniors will have never made it to a Final Four. We're going to gloss over the bit where Medcalf writes "but that streak will end this weekend when the Spartans lose to Virginia." and throw the predictor a bone here. Great job, Myron!
[ESPN, via Steven R.]