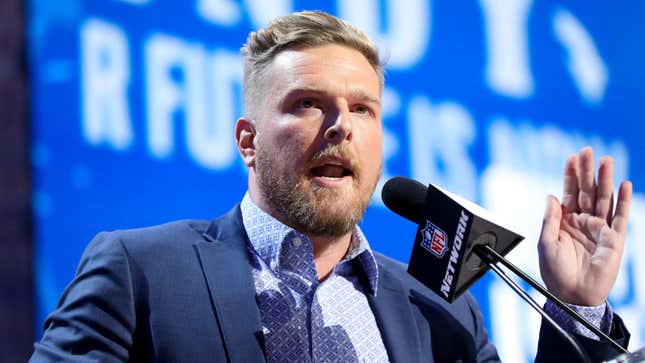 You have to spend money to make money. But you can't save money if you keep spending — unless you're ESPN.
On Tuesday, "the worldwide leader in sports" officially announced that Pat McAfee would "expand his multiplatform ESPN role as 'The Pat McAfee Show' moves to ESPN this fall." McAfee is continuing his role on College GameDay and will host various college football broadcasts. His show will air live on weekdays on ESPN, ESPN's YouTube Channel, ESPN's app, and ESPN+.

Pat McAfee walks away from $120 million FanDuel deal
Over the last few years, McAfee has been one of the biggest names in the industry. The former Indianapolis Colts punter is cashing out in his post-playing career, as he's walking away from a four-year $120 million deal he had with FanDuel. He might be the highest-paid talent at ESPN, given that it wouldn't make sense to walk away from a gig that was paying him $30 million annually unless he was getting a raise at his new job. And if we assume that McAfee is making more at ESPN than he was at FanDuel — details of the contract haven't been made public — his potential contract, that's more than likely worth more than $30 million per year, leads the clubhouse when it comes to household names at ESPN.

Let's take a look:

This is going to be a PR nightmare for ESPN
It appears that McAfee will sit atop the class when it comes to yearly and total compensation. Congratulations to him, especially since ESPN was willing to throw him the bag. But, here's the problem — this is going to be another public relations nightmare for the company.
"Pat is a proven talent. He and his team have built The Pat McAfee Show into one of the most engaging programs in sports and all of media," said ESPN Chairman Jimmy Pitaro about the signing. "It's a destination for athlete interviews and breaking news, and the centerpiece of a growing community of sports fans. We're honored to bring Pat and the show to ESPN through a multifaceted, multiplatform approach."
McAfee's contract doesn't line up with what Pitaro has said in the past — a man who has a long history of saying one thing and doing another.

"As we advance as a core segment of Disney, with operational control and financial responsibility, we must further identify ways to be efficient and nimble," Pitaro wrote in a company memo last month, as ESPN is amid rolling layoffs that will cut 7,000 jobs and $5.5 billion in costs. "We will continue to focus our workforce on initiatives that are most closely aligned with our critical priorities and emphasize decision-making and responsibility deeper into the organization."
What about layoffs?
"I do not want to minimize the enormous toll of saying goodbye to dedicated colleagues that have worked tirelessly to strengthen ESPN and deliver for sports fans," added Pitaro.

How do you get rid of that many people and positions in hopes of saving that much money, while acquiring someone who costs as much as McAfee?
Make it make sense (cents)...and dollars.

"People are looking over their shoulders. People are concerned, 'Will I be next?" former longtime ESPN employee Howie Schwab once warned. "People don't approach ESPN the same way they used to, from some of the veteran people I've spoken to. It's really disappointing. Because ESPN was a great place to work."

Again, this isn't on McAfee, as he didn't do anything wrong — besides being the biggest amplifier of Aaron Rodgers' fake news. It's on Pitaro, ESPN, Disney, and the rest of the industry.

Also on Tuesday, layoffs began within Turner Sports/Warner Bros. Discovery, as some employees in production were laid off without any notice. Back in October, TNT's "Inside the NBA" crew of Ernie Johnson, Kenny Smith, Shaquille O'Neal, and Charles Barkley all signed long-term contract extensions. And in November, Warner Bros. Discovery CEO David Zaslav publicly said, "We don't have to have the NBA."

And earlier this week, Monday Morning Quarterback's Senior Writer Albert Breer called the NFL out for their layoffs as revenues are going up, on top of the league agreeing to pay NBC $110 million for a one-year deal to broadcast a Wild Card playoff game on Peacock.
The high-priced talent who take these massive contracts don't deserve to catch flack. Save that for the executives. The issue lies with the companies who lie about what they can and can't afford, as if layoffs don't have a trickle-down effect on the quality of production. A writer is nothing without an editor, in the same way, that on-screen talent is useless without a crew and a producer. You can't have one without the other. Well, so we thought. The way things are going in this industry, one day there might not be anything left but talent who'll be left useless because all the people they needed got laid off.