In two years, ESPN will start broadcasting the men's and women's finals at the U.S. Open. ESPN has gone all-in on tennis—it already airs the Australian Open and the Wimbledon finals—and this means that CBS's decades-long run of broadcasting the men's and women's U.S. Open finals will conclude next September. And thank the lord for that.
ESPN is spending handsomely on the rights: SBJ reports it's an 11-year deal at $770 million; that's about $250 million more than CBS was willing to pay, reports Jim Miller.
CBS has broadcast the U.S. Open since 1968. It was once a great outlet for the sport. Super Saturday, a CBS creation, was an incredible TV event—two men's semifinals wrapped around a women's final, until the advent of the Williams sisters forced the women's final into primetime—that perfectly captured the nutty spirit of the entire tournament. But that feels like a very long time ago.
The biggest problem at the Open over the past five years has been the rain that's disrupted the final weekend schedule (and that lack-of-roof thing). We've had five consecutive Monday men's finals. The players may be grateful for an extra day of rest, but we're all unhappy because we're stuck at work when the final begins at 4 p.m., and CBS is unhappy because that means they lose ratings.
G/O Media may get a commission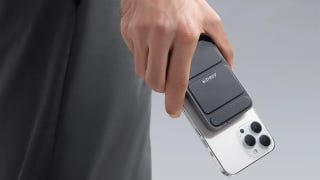 15% off
15% off Anker Top Ten Products
Take charge
Treat yourself to a portable power bank, a magnetic wireless battery for iPhones, or even a solar generator. There is a reason these are in the top ten. For instance, the Anker 747 Power Bank is a 4-in-1 charger utilizing USB-A and USB-C to be capable of charging up to four devices at once. Great to take with you when traveling and in need of keeping your phone, laptop, and even Nintendo Switch powered on.
But rain hasn't been the only culprit. CBS has had an active role in fucking up the schedule, too. Obviously, the 4 p.m. start time was created to accommodate CBS's primetime schedule. In 2010, CBS forced the USTA to move the final to Monday because a short-ish Sunday rain-delay was going to knock the Sunday men's final into its primetime lineup. The rain had let up by early evening, and tennis could have been played, but on came the old people of 60 Minutes anyway.
The next day, CBS got its men's final at 4 p.m. Cue another rain delay at a little after 6 p.m., at which point CBS did the unfathomable: It stopped broadcasting the men's final. It switched off to the CBS Evening News and announced that it wouldn't finish the match once the delay had ended. Viewers had to scramble to ESPN2 to watch the conclusion of that Novak Djokovic-Rafa Nadal final (and since ESPN2 eventually had to redirect to the second half of its Monday Night Football doubleheader, it awkwardly had to cut off from Nadal's post-match ceremony):
It was clear by this point that CBS Sports wasn't interested in accommodating unpredictable events, a trait on full display during this year's Super Bowl.
Obviously, ESPN isn't a perfect home, either. The network's tennis coverage is full of annoying novelties and gimcracks—the McEnroe brother booth, the existence of Brad Gilbert—and walking conflicts of interest. But it's ultimately a force for good. ESPN loves gobbling up live rights, and Bristol does this one well, offering hour after hour of very good coverage.
The only thing that sucks about move to ESPN is it means even less Mary Carillo. She's easily the best broadcaster in tennis. Carillo still works with the Tennis Channel, sure, but when it comes to Grand Slams she'll now be relegated to two weekends at the French Open on NBC (that's thankfully locked up for more than a decade).
Carillo left ESPN in 2010. The breakup was her choice, but it was perfectly reasonable, given that Carillo actually has a soul. According to one source, she had a real contempt for ESPN's supersize approach. Dumb spectacle just isn't her thing. She's smart and opinionated—which is particularly important in an incestuous sport like tennis. It was an act of corporate rebellion for her to criticize Serena Williams in the aftermath of the foot-fault incident in 2009, which happened a month before ESPN The Magazine's inaugural Body Issue, featuring Serena naked on the cover.
ESPN never really suited Carillo. It wouldn't be ESPN's style to have just a two- or three-person booth; it also has to have an endless parade of studio hosts, courtside analysts, an army of folks who issue out rapid-fire opinions and predictions. Carillo grew up with CBS and Pat Summerall and Tony Trabert—she liked the quiet-ish booth, and ESPN is all about volume.
The ESPN-U.S. Open marriage is a welcome one, but please do one thing, guys: Try to fix it with Mary. You'll earn a lot of goodwill that way.