Though we blast the self-important BBWAA members who deal in absolutes, there's no denying that the Hall of Fame has itself a pickle. Bonds and Clemens, the consensus best hitter and pitcher of MLB's last 20 years, are eligible this year, the most obvious examples of players who would get in based solely on their stats, but are tainted by the rumors and the zeitgeist of the steroid era. Do you reward them for their numbers, while letting them slide on the PEDs they almost assuredly used to get better? Do you punish them for their transgressions, while ignoring their accomplishments, their competition, and baseball's amphetamine-littered past?
T.J. Quinn of ESPN has a simple and brilliant way of dealing with his ballot, and the more I think about it, the more I believe he's the only one who has the right idea. If you really aren't sure how to judge these guys, just don't vote.
[T]wo years ago, I decided to stop voting. I haven't returned the past two ballots. "It's cool" just wasn't enough to overcome the myriad arguments that were persuading me I should give up that sacred right. I just couldn't do it anymore.

This year, with the release of a ballot filled with players who are either confirmed or suspected dopers, a number of my fellow Baseball Writers of Association of America members find themselves in the awkward position of judging a group of men who cannot be judged by the old standards.

I have come to the conclusion that it isn't my mess to solve, and I wouldn't be qualified to solve it even if it were.
(Unlike writers trying to "send a message" by submitting a blank ballot, Quinn isn't hurting—or helping—anyone's candidacy. The criteria for induction is 75 percent of ballots cast, not ballots sent out.)
It's sad that this is a novel approach, that more reporters haven't decided the system is so flawed, they're better off removing themselves from it altogether. But Quinn's absolutely right. Voters haven't been given a single instruction on how to deal with the PED era, even though it's the most significant sea change in MLB legacies and statistics since the mound was lowered. The character clause is too broad, and is a joke anyway because of guys like this. Without direction, as Quinn writes, the electorate is "575 writers apply[ing] 575 different standards."
G/O Media may get a commission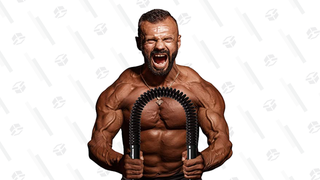 10% off
Zenooze Boa Power Twister
Quinn has spent the last decade on the Daily News's and ESPN's investigative teams. Unlike most of the steroid crusaders (who only started crusading a decade too late), he recognizes that this issue is far from cut-and-dry. And maybe the writers—regular people who can be ego-driven, biased, and out-of-touch—aren't prepared to regulate this through a poorly-defined referendum.
Even if you don't buy PED plebiscites as a deal-breaker, Quinn offers up a few more criticisms of the BBWAA voters:
I haven't covered games on a regular basis since 2002. Too many eligible voters like me have been away from the game for too long, and I think we undermine the integrity of the process. When I had spent seven seasons covering the White Sox and then the Mets as a full-time beat, followed by three seasons as an investigative reporter who spent a lot of time at the ballpark, I believe I was as qualified as anyone. But that was a long time ago. These days, my sons see more games in a year than I do.

As a journalist, I was also never completely comfortable with the idea of being a participant in a process I'm supposed to cover. I enjoyed it immensely, just as I enjoyed voting for MVP, Cy Young and everything else when I was a beat writer. I spent two seasons as chairman of the New York chapter of the BBWAA, which meant I was the master of ceremonies for the annual awards dinner. That made it possible for my parents, both raised as Brooklyn Dodgers fans, to see and hear Ralph Branca and Bobby Thomson thank me by name before a crowd of 1,500 people. The role comes with a sense of power and belonging that is intoxicating. And from a simple point of ego, having a Hall of Fame vote is a great tiebreaker in arguments around a Little League field or a bar.
The system usually works, because the system is more about the debate than the results. But the PED era is going to confuse and irritate us for years to come, as many BBWAA writers would rather expound on their own moralities than talk baseball. Perhaps willful non-participation is the only clear message a voter can send these days.
The HOF: Why I stopped voting [ESPN.com]