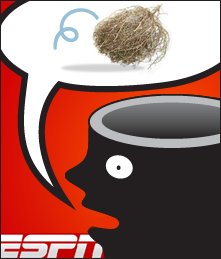 Each day ESPN sifts through its finest reader comments, and chooses the most enlightening example to feature on its home page. This is one of those comments.
• "The Lakers lost a game they should've had, but what's a game here or there?" — kobeisbatman
Previous ESPN Featured Comment of the Week, plus a Featured Deadspin response or two ...
• ""When the Hawks go 82-0 and the Celtics are 81-1, the Cs will have home court." — Bonzo_Bonham
—-—-—-
• What the shit? (UpstateUnderdog)
• Apparently, I can write whatever nonsensical thing I want and it will be an ESPN featured comment - Bonzo_Bonham (JobuNeedsARefill)
• Lay off fellas. You should be amazed a freaking dog can type! (Spectacular Sam)