Today ESPN announced the official launch date (April 12) of its new subscription streaming service, called ESPN+. In addition to studio shows and an on-demand library, ESPN+'s main draw is "thousands of live sports events," which according to the release includes MLB, NHL, and MLS games, as well as rugby, cricket, tennis, and college sports.
ESPN+ isn't exactly a solution for people who don't have cable, since it will be missing all of the biggest games broadcast on actual TV. But it is a sports package available for people without a full-on cable subscription, and in that sense its $4.99-a-month price tag aims to make up some of the money lost from cord-cutters—the scourge of ESPN that's been dragging down Disney profits of late, and contributed to a series of shortfalls in projected earnings, including Q1 of this year.
ESPN+ is also a way to get some extra money out of current subscribers, ones who might already be used to thousands of live sports over streaming. If this new service sounds a lot like ESPN3, the current online home—provided by many ISPs*—for thousands of sports that aren't televised on ESPN's TV channels, you'd be right.
While certain aspects, like the MLB and NHL games, are brand new, one of ESPN3's main draws is a wealth of college games in lesser-watched sports or conferences, as well as expanded coverage of Grand Slam tennis and global competitions like cricket. The network has so far been vague about which leagues and games will get cannibalized from ESPN3, or how many, but ESPN did confirm that some of ESPN3's programming will change.
"Most ESPN+ programming will be new and additive, not available to our existing nets (including ESPN3)," a spokesperson for ESPN told Deadspin. "ESPN3 will still have thousands of live events and, while some content will shift to ESPN+, we will actively program live events across both platforms."
G/O Media may get a commission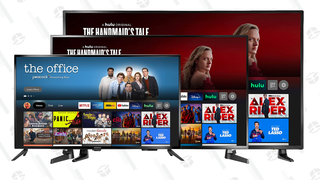 Up to 44% off
Prime Early Access - Insignia Fire TVs
ESPN3 is already paid for by your Internet providers*—who, of course, pass the cost on to you—so it's not exactly possible to unsubscribe from it. But ESPN+, this new separate service that does pretty much what ESPN3 does, will cost an additional $5 a month if you want it. Neat.
Correction (3:46 p.m.): A previous version of this post said that ESPN3 was paid for by cable providers. It is, in fact, covered by ISPs.