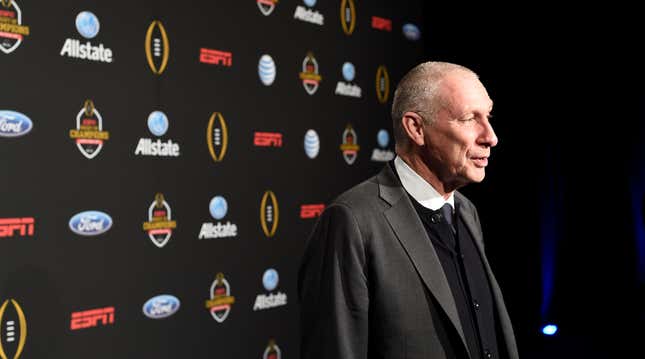 The television industry is still working through the period of upheaval it entered during the mid- to late-aughts, when a variety of rival technologies all began to seriously affect business. DVRs achieved ubiquity, allowing viewers to skip commercials; streaming services like Netflix and Hulu grew into serious alternatives; and expanded broadband internet and faster mobile connections started dominating screen time.
Does Jimmy Butler have the best NBA Finals origin story? | Agree to Disagree
Despite all this, live sports reigned. They're famously DVR-proof—nobody is recording the Super Bowl to watch the next day—and also social, a perfect fit for traditional television. In a period where ratings fell pretty much across the board, for live sports they remained flat and in some cases even grew.
It was during this period that ESPN, as the preeminent sports broadcaster, achieved the pinnacle of its power. The network has historically enjoyed massive profits not just because of its popularity but because of the dual revenue stream that popularity affords it. Not only does it earn billions selling commercials, it earns further billions from subscriptions fees paid by cable distributors like Comcast and Time Warner for the right to offer its channels to subscribers. Historically, the subscription fee for ESPN has been around four times greater than the next highest fee (TNT or the NFL Network), while ESPN2's fee has been in the top 10. You and I pay those fees in the form of our cable bill, whether or not we watch ESPN.
Flush with cash from the dual revenue stream and insatiable, ESPN went on a spending spree. They paid $2.25 billion to broadcast SEC games. They paid $480 million to broadcast Wimbledon. They paid $15 billion to broadcast Monday Night Football. They paid $1.5 billion to broadcast the Pac-12. They paid $5.6 billion to broadcast MLB. They paid $3.6 billion to broadcast the ACC. They paid $770 million to broadcast the U.S. Open. They paid $5.6 billion to broadcast the College Football Playoffs. They paid $12.6 billion to broadcast the NBA.

In 2011, in the midst of this spending spree, cable distributors started threatening to offer "skinny bundles." Rather than charging subscribers a lot of money for the traditional television bundle of every popular channel, they would offer less expensive bundles with fewer popular channels. Since ESPN charges by far the highest subscription fee, they were a natural candidate to be left out of the skinny bundles; one media executive at the time called ESPN fees a "tax on every American household."
This proposed a problem, if a theoretical one, for ESPN: while it grew into the giant that it is today on the back of the dual revenue stream, it faced a dual threat. It faced the same threat as everybody else in the television industry, that consumers could cut the cord entirely and instead opt not to pay for TV. But it also faced a threat from the tens of millions of non-sports fans who were collectively paying enormous sums for ESPN each month just because it was included in the standard bundle, but would happily not do so if their cable provider offered a cheaper skinny bundle without it.
In early 2012, ESPN was entirely unfazed by this prospect. At a media conference, then Disney-CFO Jay Rasulo talked up ESPN's virtues—"fans love ESPN ... for 11 straight years, ESPN has been the most valued network to cable operators"—and dismissed the possibility that distributors would offer attractive skinny bundles without the four-letter network:
I think they'll continue to use them in a narrow way that fits their own business strategy for markets that they're either going to have zero subscribers, they're going to get on some skinnied-down package. But I can't imagine that any of them are going to want to move their business model towards a series of skinnied-down packages. It doesn't make sense economically for them and the response to these skinnied-down packages has been historically extremely limited.
Which brings us to today. ESPN is hemorrhaging subscribers and money. In a November regulatory filing, the network revealed that it has lost seven million subscribers over the past two years. While every popular TV channel has lost subscribers, the losses for ESPN and ESPN2 are among of the highest in the industry—and the most costly. Here is a graph showing subscriber losses from July 2011 to July 2015 for 15 of the most popular cable channels: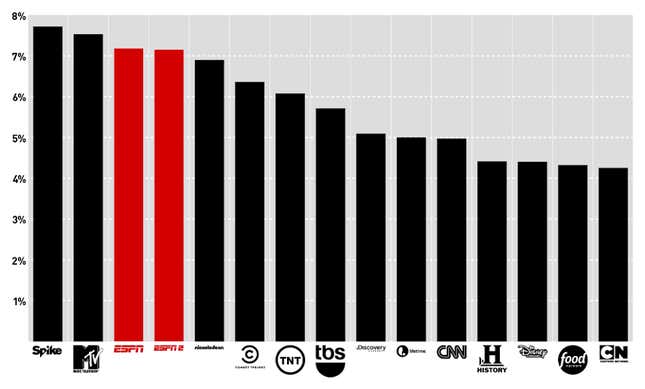 ESPN is, like everybody, being dropped by cord cutters, but it's also disproportionately affected by people trading down to packages that don't contain ESPN or ESPN2. Now that the skinny bundles Rasulo laughed at four years ago are actively hurting the company, though, ESPN is asserting that the damage actually isn't as bad as it looks. Here's a revealing exchange from an interview with ESPN president John Skipper, published the other day by the Wall Street Journal:
WSJ: What has been the biggest reason for ESPN's subscriber declines?

Mr. Skipper: People trading down to lighter cable packages. That impact hasn't leaked into ad revenue, nor has it leaked into ratings. The people who've traded down have tended to not be sports fans, and have tended to be older and less affluent. We still see people coming into pay TV. It remains the widest spread household service in the country after heat and electricity.
What Skipper says here is fundamentally true. Ad rates are mostly based upon how many people are (estimated to be) actually watching a channel; if those seven million fewer subscribers were truly never watching ESPN, ad rates should remain basically unchanged.
It's also a severe obfuscation of the full picture, though. The average ESPN subscriber fee is $6.41 per month, and rising. Those seven million customers represent about $80 a year apiece—over half a billion dollars a year. Add in the big subscriber losses for ESPN2 and ESPN Classic, and more modest losses for ESPNews and ESPNU, and they're missing out on around $750 million in revenue they would've earned in 2011. This is one of the big reasons ESPN laid off 300 employees, let Keith Olbermann, Bill Simmons, and Colin Cowherd go, and killed Grantland.
Unfortunately, that's not where this story ends for ESPN. Faced with a declining revenue stream, there are two choices for most businesses: sell more of your product, or charge more for it. Given the secular changes in the television industry, the former isn't an option for ESPN. Neither, probably, is the latter. The network still has almost 92 million subscribers, and simple math tells you they could recover the lost three-quarters of a billion dollars by charging a subscriber fee of something like $7.09, rather than $6.41, per month—a large increase, but, with live sports still king, not out of the realm of possibility. With carriers already livid about how much they're forced to pay for ESPN, though, any large increase would only further incentivize them to promote skinny bundles without ESPN, and for customers to, one way or another, do away with ESPN altogether.
Thus, the dual revenue stream that is rightfully credited with building ESPN into a behemoth is now the source of its greatest anxiety. Like every TV property, they have to worry about diminishing audiences leading to diminishing advertising revenue that even a dominant digital operation can't make up for. Unlike many, which make too little in fees to lose out when skinny bundles are assembled, they also have to worry about distributors having every reason to find customers who would otherwise cord-cut and convincing them to trade down to cheaper packages that don't charge them for expensive sports programming they don't want.
The apocalypse isn't imminent here. ESPN is still carried in the overwhelming majority of American homes, and is still very profitable. But no amount of optimistic spin from John Skipper can cover up the problem the network faces: its future is in a world where advertisers pay less and customers don't pay at all for programming they don't want, and it's arriving ahead of schedule.
Lead image via AP. Graphic via Sam Woolley, data from TV By The Numbers.
---
E-mail: kevin.draper@deadspin.com | PGP key + fingerprint | DM: @kevinmdraper