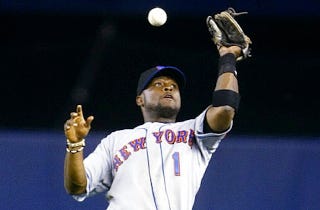 Today the Mets released Luis Castillo, and will try to forget the last three-and-a-half years ever existed. For my money, the maligned and malignant second basemen best represents the Mets' years as a black hole of a franchise. They'll have to eat his remaining $6 million, and it's worth it. Much like finally unfriending your ex on Facebook, it won't solve all your problems, but it's mentally healthy to cut ties.
From the drop to the hospital visit, Castillo's tenure perfectly covered the late 2007 collapse to the present debt woes. More than Beltran, or Santana, or even Ollie Perez, Castillo is the go-to shorthand reference for the shit years.
That's quite the honor, and it's a great question for debate. Which single player stands for your franchise's dark ages? It's never the best player, and rarely the worst, but it's the underachiever with a few signature moments. When you argue that you're not a bandwagoner, you say you were a fan in the "Player's Name" years. I lived through the Kevin Maas years. Rangers fans just escaped from the Kevin Millwood years. Are Pirates fans living through Paul Maholm or Zach Duke?
Who's your team's guy?