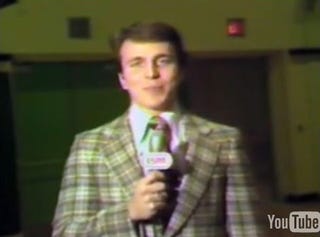 Once upon a time, Xavier coach Sean Miller did Harlem Globetrotter tricks as a 12-year-old, and ESPN reporters rocked the WKRP In Cincinnati Herb Tarlek sports jacket. It was truly sports media's golden age.
Check out the video below, in which Miller is featured in an early ESPN remote — Berman must have been busy that day — a few years before becoming the star point guard for his father John's Blackhawk High School team in Chippewa Township, Pennsylvania. He also went on to become Big East Freshman of the Year in 1988, leading Pitt to three NCAA Tournament appearances before becoming a coach.
The Panthers knocked Miller and his Xavier Musketeers out of the tournament last night, 60-55.
Of course ESPN was about seven years late with this story; Miller appeared on The Tonight Show Starring Johnny Carson when he was five, doing pretty much the same tricks.
Xavier Coach Sean Miller Was A Basketball Phenom, ESPN, Video [NESW Sports]