On April 13 of last year, the Phillies lost their beloved Harry Kalas, after he collapsed in the broadcast booth from years of l-i-v-i-n. Writer Randy Miller's book, "Harry The K" reveals how much life he crammed into his 73 years.
Although there were many other fawning tributes written about Kalas and his superior broadcasting skills that made him a treasure in Philadelphia, but also a sought after Voice for NFL Films and Campbell's Soup commercials, Miller's book shows us that Kalas, perhaps more than many other broadcasters, considered himself a part of the Phillies team. Especially when it came to late night carousing, and he lived a life that was more Frank Sinatra than Pat Boone. This is not a surprise to many writers (and fans) who followed the Phillies, but it's never been documented so, hmm, thoroughly. For example, some things we learn from Miller's Kalas bio:
* Harry Kalas once had sex under the Gateway Arch with a woman who was not his wife and strolled into his hotel early in the morning with grass stains all over his white suit. This was subtly mentioned on the air by his long-time partner, Richie Ashburn.
* Chris Wheeler was initially Harry's guy to field phone calls from many of his side projects.
* When Kalas would drink hard liquor, he called his drinks "see-throughs"
* When Richie Ashburn died, he had a "female friend" with him in his hotel room.
Miller actually does a commendable job dirty laundry-sifting, interviewing hundreds of friends, family members, Kalas' second wife, his therapist, so the anecdotes don't come off as sleazy as one of those unauthorized bios where we find out that John Tesh fucked Oprah. (WHAT?!) Although, I heard from one source that Ryan Howard, who penned one of the intros, had no idea the book was going to be as salacious as it ended up and felt a little silly for including his "Harry was like Jack Buck to me..." essay in it.
G/O Media may get a commission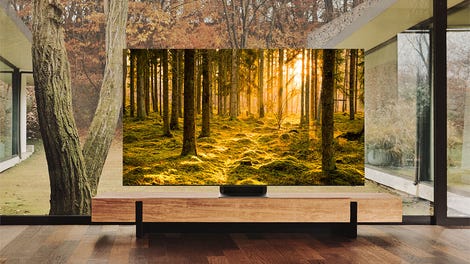 Up to 40% off
Samsung Smart TVs
If you're a baseball fan, you'll love this book. If you're a Phillies fan, it should be required reading every spring. Go get it.
****
Thanks for your continued support of Deadspin. SportsCenter is coming up next...
*