Every morning, the fine folks at Sports Radio Interviews sift through the a.m. drive-time chatter to bring you the best interviews with coaches, players, and personalities across the sports landscape. Today: when even the league's dirtiest player is offended, maybe you've gone too far.
Jokic? Embiid? The NBA MVP is obvious... right? | Keep it a Buck(et)
Rodney Harrison joined The Dan Patrick Show to talk about what he thought about James Harrison's comments, on the idea that the NFL is targeting James Harrison, whether or not James Harrison may be looking for attention, and how he thinks this will play in the Steelers locker room.
When he heard about James Harrison's comments:
"I found out coming from the airport, I was getting off a plane and someone called me. They said that he called me a clown. I really don't understand the fact that he would even go there with me because I was basically saying he needed to change the way he played because you don't want to hurt somebody, you don't want to even hurt yourself. I talked about the money but more importantly than that in 10, 15, or 20 years down the line when he's out of football, he has to understand he has kids, he's going to be married if he's not married already, and he has to take care of himself. I really think the comments that struck me were the comments he made about Commissioner Goodell."
On the NFL possibly targeting James Harrison:
"It's no different than me Dan. I felt the same way as far as maybe the NFL is targeting me, but eventually you're gonna have to change the way you play and the Commissioner is doing a fabulous job of trying to get these jobs to understand that. The NFL is trying to protect themselves because 10 or 15 years down the line there are going to be guys that come back and say I can't remember this. I've got dementia and I'm going to sue the National Football League. He's trying to protect the best interest of the National Football League and he's going to have to change the way he plays. I looked at the comments and for me, very immature comments from James Harrsion. Obviously it's a senseless statement that he made calling Roger Goodell the devil. How do you make comments like that? That's flat out cruel and that's a little bit extreme. Let's flip it because there is a little bit of a double standard in my eyes. If Commissioner Goodell called him a devil or a ruthless thug, what would happen to the Commissioner? I think it's just a double standard. I think it's wrong, I think it's immature, I think it's ignorant and somebody needs to grab him by the coattails and tell this guy to shut up and grow up because it's bad. You can't make those type of statements about people. Furthermore, if you wanted to get to know Roger Goodell go to New York and spend time with the man. Don't make these comments if you haven't spent any time with him. I just think it's sad and somebody from the Pittsburgh organization needs to sit this guy down and say shut up and play football. Play football better. Like you said he's not even the best defensive player on his football team. He needs to focus on that."
G/O Media may get a commission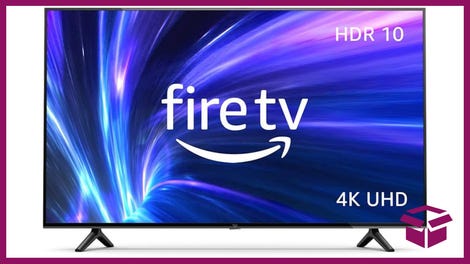 42% Off
Amazon Fire TV 50" 4K Smart TV
On why he thinks James Harrison believes the league is targeting him more:
"It's funny because guys like that who make comments like that they're always looking for an excuse. You're absolutely right Dan. I think he's looking for attention, he's looking for people to notice him and recognize him. He's bitter, he's angry inside and I don't know how that could ever be being a guy that was undersized, got cut a couple of times, and now he's one of the highest paid defensive players in the game. It's just crazy to me. You look at Ray Lewis, a guy who does it right all the time. He may get a penalty or a fine once a year but a guy that can tackle low, has great form, a guy that can get up, celebrate, knock your brains out, but still help you up and give you a hug after the game. Why can't this guy be the same way?"
On the comments he made about Harrison on Football Night in America:
"You know what? If he watched it and rewinds the tape he will see that I was actually in favor of him being a great player. I talked about this guy being the standard of the football player, he's one of the toughest guys out there, and he's an absolute beast. At the same time you don't want to be known for vicious, illegal hits because that's going to take away from how good you are as a football player and that's what happened to me in my career. I was known for illegal hits and dirty hits and it took away from Pro Bowls, All-Pros, it can possibly affect me in the future in Hall-Of-Fame voting, and I didn't want the same thing to happen to this guy. That's why I talked about him changing the way he played and changing the way he hits."
How his comments will play in the Steelers locker room:
"I think he loses respect in the locker room because guys look at him and say he's a defensive leader, he's a guy that we're supposed to trust and all of the sudden he's going behind their backs talking in an interview about his quarterback and his running back. If you've got something to say then say it to those guys faces, but don't go behind your guys backs. How can I trust you? How can I line up next to you if you're stabbing me in the back? It's a deep-rooted internal feeling that he has and somebody really needs to check on him. Maybe some of those hits to the head are really affecting him now."
This post, written by Chris Fedor, appears courtesy of Sports Radio Interviews. For the complete highlights of the interview, as well as audio, click here.
More from Sports Radio Interviews
• Jack Del Rio doesn't mind some time off.
• Chipper Jones will be ready for October.
• An NBA power broker gives his take on the lockout.