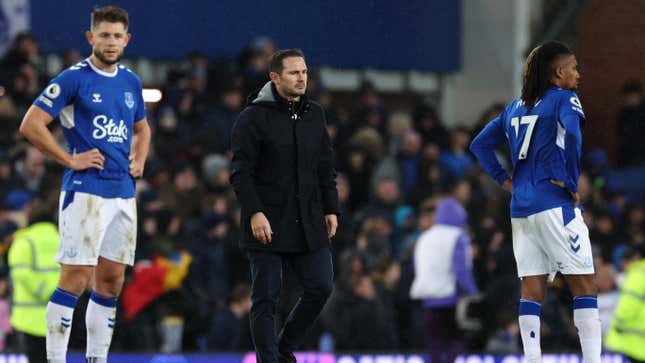 Perhaps the most damning thing you can say about Everton FC is that most fans probably didn't know the Premier League had financial fair play rules. It is hard to remember any other club that has come within a mile of being in violation of these rules that no one knows, and seem pretty nebulous when you do get to them. And that's only one of Everton's bleeding wounds at the moment, and we'll come back around to it.

Erling Haaland set to break records | Premier League
We've been here before
If all of this sounds familiar, it's because we were here six months ago. Everton are rooted to the bottom of the Premier League, they look utterly hopeless on the field, they are financially hamstrung off of it, and everything looks pointed the wrong way. Except there's one major difference this time.
When Everton survived the drop last season, there was a lot of credit and admiration for the way the supporters of the club had gotten behind the team. Manager Frank Lampard — though everyone concluded long ago that he's tactically empty — did manage to keep fans on the team's side, no matter what they thought of the club's board. There were some pretty inspiring scenes around Goodison Park during last year's closing stages, with fans wildly cheering the team bus as it arrived or the deafening atmosphere they created inside the ground. While Richarlison turning into Galactus and pulling the team out of the relegation spots pretty much on his own amongst those who were on the field, the home wins over Manchester United, Chelsea, and Crystal Palace were aided greatly by the feeling that no matter how dire things were, the team and fans were still at least pulling in the same direction. Hearing the cacophony during those matches that the Everton faithful produced would convince anyone that they played their part in the club's survival.
Whatever the benefit of a home-field advantage or the adrenaline rush a player gets from feeling 35,000 scream their support, it very well could have been the difference, even if it's just five or 10 percent. What's frightening for Everton now is that the energy of unison between club and fans is most certainly gone.
Bottom of the barrel
Everton are at the ass-end of the table again, but the supporters have turned on the club. Their last home game against Southampton saw board members advised to not attend due to threats made (though Liverpool police haven't confirmed that). There were reports one board member was attacked by fans. Players saw their cars surrounded after the Southampton match by angry fans as they tried to get home. There was a sit-in protest after the match as the fans called for the resignation of the entire board.
Everton's problems aren't new, but this time Lampard hasn't been able to hold all the reins together simply by being new, a name, and being committed to the cause. Last season, he wasn't Rafa Benitez, whom all the fans hated thanks to his Liverpool connection, and though Everton fans pretty much accepted that he is pretty much a giblet when it comes to organizing a team or installing a playing system, he at least showed energy and determination that filtered down.
But that only works once, and only in a situation so desperate that fans will grab onto anything. Repeat the same things and fans' patience runs out. Everton have actually been defensively OK for most of the season, only conceding 26 goals, though recent dry heaves against Brighton (4-1 loss) and Southampton (2-1 loss) at home suggest that's starting to creak as well. What Everton can't do is hit a bull in the ass with a banjo on the other end, only scoring 15 goals on the season (only Wolves have scored less). They may have gotten a bounty for Richarlison, but they have not turned that into anything that has come anywhere near replacing the Brazilian's production.
Looking at the roster
Neal Maupay arrived from Brighton, a club notorious for not being able to score enough when he was their main striker. How was he going to provide the goals? Dwight McNeil was a lively winger for Burnley, but being lively for Burnley is something of the Branson, Missouri of the Premier League. Perhaps there was hope that Dominic Calvert-Lewin could return to health and form, but he's now two years removed from being one of the league's best strikers, has only made nine starts this season, and is barely managing a shot of any kind per game.
Then again, Everton don't have a lot of providers. Amadou Onana and Idrissa Gueye (while being, in my opinion, a bigot for refusing to wear a rainbow jersey) make for quite a double pivot to protect the defense. But that only leaves Alex Iwobi in midfield to create much, and no one should have to depend on Alex Iwobi that much unless they have a death wish. Which Everton might.
On the wings, Everton mostly sport Demarai Gray and Anthony Gordon, who between them have one trick of knocking the ball as far ahead of them as they can and trying to run it down. Everyone must be wondering why Everton didn't rip Chelsea's arm off when the latter was offering some $60 million for Gordon in August, which is about $10 million for every point of Gordon's IQ. Because neither Gray nor Gordon nor McNeil comes inside all that much, there isn't a lot of space for the fullbacks to get into to join the attack. That is if joining the attack wouldn't be fatal to Seamus Coleman at this point in his career, which it would be.
Looking over the last few matches, it appears Lampard doesn't have any idea what the team's best formation should be. He's bounced between a four-at-the-back look, a three-at-the-back, and sometimes five-at-the-back. It doesn't feel like he's adapting to the opponent so much as fishing.
And there probably isn't any help coming this month. The club has spent so lavishly to supply a host of hapless managers with the players they wanted the past six or seven years that those FFP rules are keeping them from dipping back into the January market. Lampard is going to have to make the most of what he has on offer, and that so far has gotten them a handful of their own shit. So it might not be Lampard to finish the season in the manager's chair, but playing manager roulette is a big reason the club is here in the first place. And also, who wants this job, relegation-threatened and unable to bring any players in with the fans turning into an enraged rabble?
It must be truly disheartening for Everton fans to see clubs like Brentford, Brighton, and Fulham zoom by them from the Championship and into the top half of the table with far less money spent but far more solid foundations and systems. They've seen West Ham — a club that Everton should be on par with — get to a Europa League semifinal. They've seen Aston Villa hire one of Europe's top managers in Unai Emery, and that's another club that Everton see themselves as a peer to.
Maybe relegation would be the kind of cataclysmic event that would force the club to redo everything about itself in the way Brighton and Brentford did. But there's a new stadium to pay for, and it's a lot harder to do that by charging Championship prices for tickets.
What's really frightening is that if the synergy between the fans and team was the clincher to their avoiding relegation last season, then the toxicity that now exists between the two could likely be the clincher that sends them down. That's not to blame the fans, they've put up with enough. They can only be asked so much, especially by a club that has no answers themselves.