At least some Americans will manage to be offended by just about anything. But Miley Cyrus's trainwreck performance at last month's Video Music Awards was something special, and garnered one of the largest numbers of viewer complaints in recent history.
Through a FOIA request, Deadspin has obtained the file of FCC viewer complaints about the VMAs. There are 161 individual complaints. By comparison, Beyoncé's Super Bowl performance, watched by a much larger audience, drew just 48 complaints. David Ortiz swearing in the Red Sox's first game after the Boston Marathon bombings drew 25 letters.
The full file is below, and we heartily recommend reading the whole thing. We've pulled out some of our favorites, along with the viewer's hometown.
Albany, N.Y.:
G/O Media may get a commission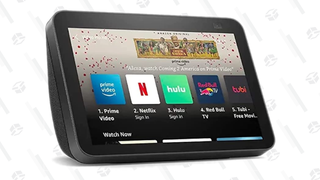 Sandpoint, Idaho:
Washington, Utah:
Fort Mohave, Ariz.:
North Wildwood, N.J.:
Springfield, Ohio:
Lexington Park, Md.:
West Saint Paul, Minn.:
Bordentown, N.J.:
Manassas Park, Kan.:
Huntington, W.V.:
Newport News, Va.:
Goffstown, N.H.:
Lancaster, Penn.:
Austin, Texas:
Dallas, Texas:
Dresher, Penn.:
Wellsville, Kan.:
Jeannette, Penn.:
The FCC was forced to tell each and every person that it does not regulate cable television.
The full collection of viewer complaints: